Is it true that there aren't many flying hours and the COVID-19 pandemic has made the referee's way of observing the 2023 AFF U-23 Cup final different?
The 2023 AFF U-23 Cup (17-28/8/2023) has just passed and for Indonesian football fans it has the potential to leave quite a sensitive obstacle. Especially if you look back and see the figure of referee Hiroki Kasahara.
During the 2023 AFF U-23 Cup, Hiroki Kasahara led a total of four matches, the majority managing the Indonesian National Team, with the following track record:
* Indonesian National Team vs Malaysian National Team in the opening phase of Group B, awarded a penalty to Malaysian player, Fergus Thierney.
* The Indonesian National Team vs the Thai National Team in the semifinal phase of the 2023 AFF U-23 Cup, proceeded safely in the sense that no observations resulted in controversial decisions.
* The Indonesian National Team vs Vietnam National Team in the final phase of the 2023 AFF U-23 Cup, came back unmoved when Haykal Alhafiz's head was elbowed by Nguyen Hong Phuc. In the aftermath, Coach Shin Tae-yong was given a yellow card for protesting.
It is true that there has been no technical study discussing the "strangeness" of guarding Garuda Muda at the 2023 U-23 AFF, but there are several explanations that can be used as discourse.
On Twitter social media, an account called @SoccerRefereeJP wrote that Hiroki Kasahara underwent FIFA selection to become an international referee in 2020. Then he became a referee for the 2022 AFF Cup. And before that, he was a referee for domestic matches in Japan.
As a background, the world was hit by the COVID-19 or Corona virus pandemic starting in 2020. During that period for approximately two years, there was a massive lockdown implemented by all countries.
Relations between countries using various modes of transportation, especially air, are limited, reduced, or even completely cut off to limit transmission. Moreover, it spreads through the air and attacks the respiratory tract.
In Japan itself, the 2020 Tokyo Olympics had to be postponed one year later. It will be held in 2021, but the name is still the 2020 Tokyo Summer Olympics.
At this time, various championships including football were stopped. The reason is, this type of sports game that involves a "colossal" number of players and direct physical contact is not a good idea for the key to handling COVID-19: physical distancing.
So, you can imagine that Hiroki Kasahara's activities as a referee stopped temporarily at that time. Even though we have obtained an international license starting in 2020, the opportunity to hone our instincts is limited compared to world conditions without a pandemic and many more football matches can be held.
It is also possible that the referee who was born in Fukuoka, Japan, April 8 1989, has not had the opportunity to be deployed at the Tokyo Olympics, which could actually hone Hiroki Kasahara's international experience as a referee who has met many foreign players.
Then it also needs to be emphasized that Hiroki Kasahara entered as referee for the AFF championship which only started a year ago, namely 2022.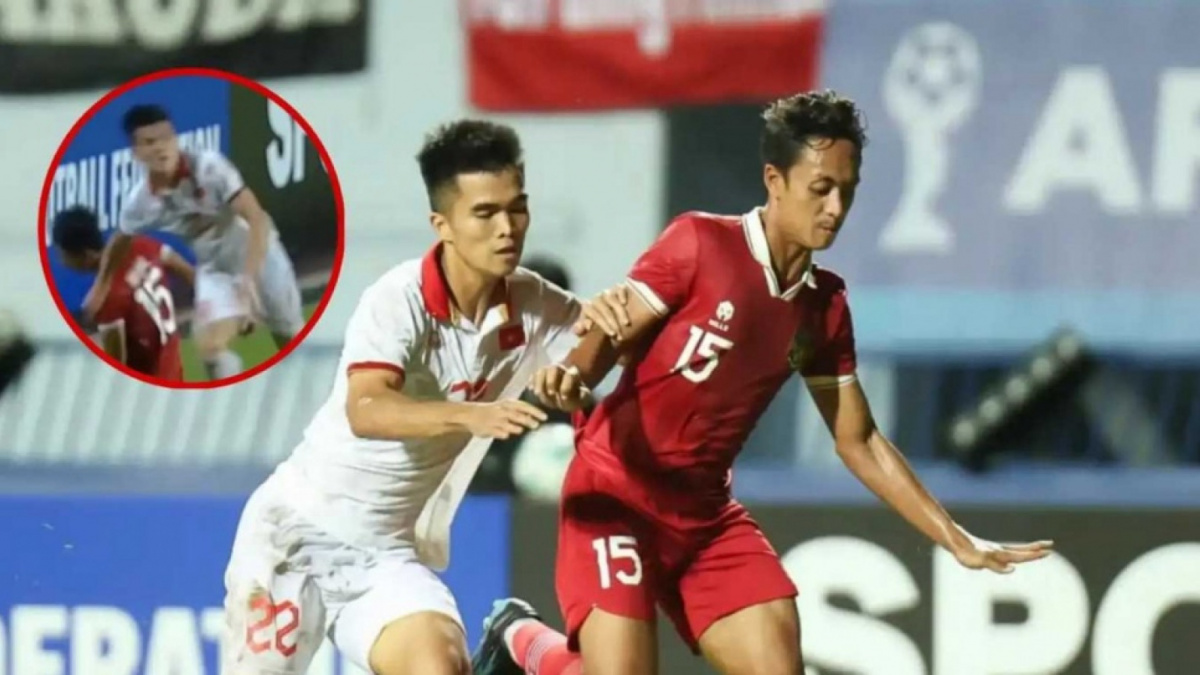 Vietnamese player, Nguyen Hong Phuc (left) duels with the Indonesian national team, Haykal Alhafiz (source: (Doc. Makan Bola))
Looking at the AFF 2022 organizing page, the name Hiroki Kasahara appears among the Referees. For Japanese nationals, there are five referees, namely Yusuke Araki, Jumpei Iida, Ryuji Sato, Yudai Yamamoto, and himself.
Hiroki Kasahara, who was once a physiotherapist, left a "strange" note in his performance at AFF U-23 2023, however, several of his colleagues who were involved as referees for AFF 2022 also had similar performances. Namely Ryuji Sato who gave a penalty to the Vietnam National Team in the 2022 AFF match against the Malaysian National Team.
Meanwhile, Jumpei Eida set a world record for receiving the fastest red card in a professional match. Happened on April 15 2009 against Tomo Sugawara, Tokyo Verdy's center forward only entered the field for 9 seconds against the Sagan Tosu club.
Also Read: MUI: Oklin Fia's Ice Cream Lick Content Is Not Religious Blasphemy
So? That's a glimpse of the background of referee Hiroki Kasahara.