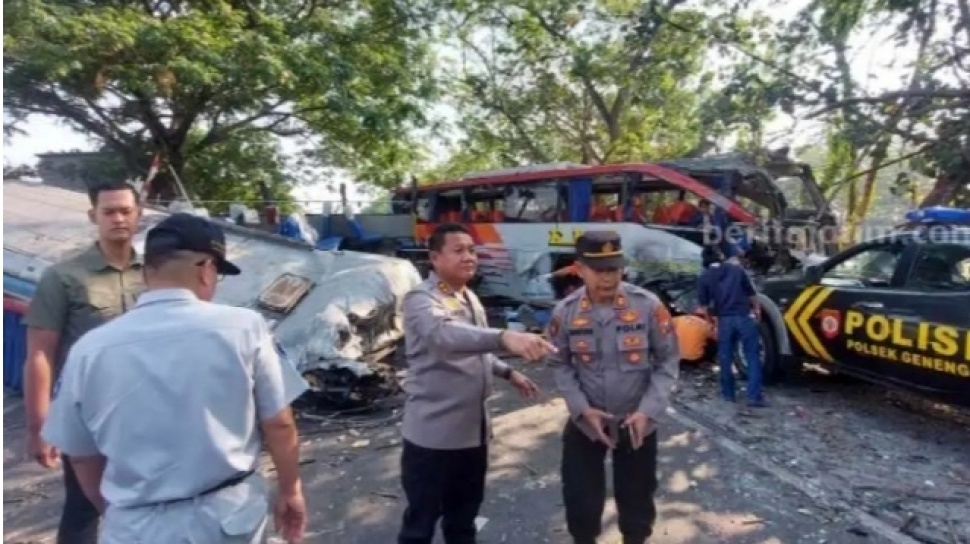 Suara.com – The bus accident in Ngawi, East Java on the Solo-Madiun national road on Thursday (31/8/2023) left a horror appearance.
Several victims involved in the Eka bus vs Sugeng Rahayu bus accident were injured and the rest died in tragic conditions.
The driver who was driving the Sugeng Rahayu bus number W 752 UY died and his body was in an unsightly condition.
The view of the condition of the driver's body was revealed by the volunteer on duty.
Also read: Truck crashes into Padang resident's house and splashes into river, driver is trapped
The bus driver Sugeng Rahayu got into the opposing bus
A volunteer member named Yoyok told his dark story when evacuating victims, including bus driver Sugeng Rahayu.
Yoyok told journalists at the crime scene, Thursday (31/08/2023) that the accident was so severe, the sound of the collision could even be heard from 1 kilometer away.
The driver had already died when Yoyok and the volunteers carried out the evacuation process.
The severity of the accident caused the driver Sugeng Rahayu to stick to the front of the Eka bus that hit him.
Also Read: Chronology of the Deadly Eka vs Sugeng Rahayu Bus Accident in Ngawi, 4 Passengers Killed
The late driver was also said to have stuck to Eka's bus seat.
The driver's leg broke off and disappeared
Yoyok and his fellow volunteers were also presented with the horrifying sight of the driver's right leg being severed from his body.
The volunteers even had to try hard to find the driver's leg which had been blown away.
Yoyok and the volunteers finally found the poor driver's severed leg under the body of the Eka bus.
Regarding bus driver Eka, he was still alive when volunteers carried out the evacuation. Unfortunately, the bus driver Eka was finally declared dead during the evacuation process.
Yoyok reported that the evacuation process from start to finish took two hours to evacuate the Eka bus driver.
Condition of other victims
Police reported that the accident caused 4 people to die and 17 injuries.
Apart from the two bus drivers, there was an unfortunate pedestrian who had bad luck and died in the accident.
Meanwhile, Ngawi Police Chief AKBP Argo Wiyono obtained crime scene facts that the accident started when the bus tried to avoid the pedestrian who was crossing.
"The incident started when the Eka Bus was traveling from Ngawi towards Madiun. At the location, the Eka Bus tried to avoid pedestrians. Until finally, it hit the Sugeng Rahayu Bus from the opposite direction," said Argo to reporters.
The deceased victims were evacuated to Dr Soeroto Regional Hospital, while dozens of injured victims were treated at Dr Soeroto Regional Hospital and Geneng Hospital.
Contributors: Armand Ilham