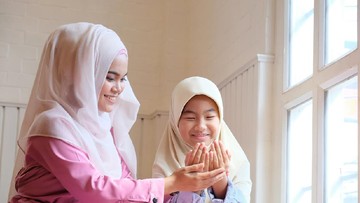 Reading prayers after studying is one of the things recommended in Islam. The aim is not only to make the learning process easier and more enjoyable, but also to make the knowledge gained useful.
Apart from that, studying is also a form of worship so it is best to start by reading a prayer first.
Quoted from the book Guide to Daily Muslim Children's Prayer, the word prayer comes from Arabic which means 'to call' or 'ask for help'.
ADVERTISEMENT
SCROLL TO RESUME CONTENT
The command to pray is found in the Qur'an and hadiths, one of which is the word of Allah SWT in Surat Al-Baqarah verse 186:
"And when My servants ask you (Muhammad) about Me, then (answer) that I am near. I accept the supplication (of people) who pray when they pray to Me. So let them fulfill (all orders)- Me and let them believe in Me, so that they are always in the truth."
Before learning what prayer readings are after studying and their meanings, also teach your little one about the etiquette of prayer, namely:
Facing the qibla Reciting hamdalah Reciting istighfar Reciting shalawat With a soft voice and a sense of fear I'm sure it will be fulfilled
Reading prayers when studying
Before starting to study, children also need to be introduced to the recitation of prayers that can be chanted. The prayer that is read when you want to study, citing the book Kumpulan Doa Mustajab Sepangah Hayat by Drs. Nurdin Hasan, is:
I am satisfied with God as Lord, with Islam as religion, and with Muhammad as prophet and messenger. My Lord, expand my breast for me and make my affairs easy for me, and loosen the knot from my tongue so that they may understand my words. My Lord, increase me in knowledge.
Latin reading:
Radhitu billahi rabba wabil Islam is the enemy of the wabi wabi muhammadin prophet warsuulaa. The rain of the rohli shadri wa yassirlii amri wahlul 'uqdatammil lisaan yafqohuu qouli robbii zidnii ilman
It means:
"I am pleased with God my God, Islam my religion, and Muhammad my prophet. Oh God, open my chest and make my affairs easy and release the stiffness of my tongue, so that they understand my words, oh God increase my knowledge."
Prayer reading after studying
After the learning process is complete, here are several prayer readings that children can recite and memorize:
1. Prayer after studying: asking for understanding of knowledge
Quoted from the Muslim Children's Prayer Smart Card, one of the prayer readings after studying is:
Oh God, I entrust to you what you have taught me, so return it to me when I need it and do not forget it, Lord of the Worlds.
Latin reading:
Allaahumma innii istaudi'uka maa 'allamtaniihi fardud-hu ilayya 'inda haajatii wa laa tansaniihi, O Lord of the Worlds.
It means:
"Oh God, I entrust you with the knowledge that you have taught me, and give it back to me when I need it back. Don't let me forget that knowledge, O Lord of all the worlds."
2. Prayer asks for useful knowledge
O Allah, I ask You for beneficial knowledge, and they had a good, and pursuant receptive
Latin reading:
Allah is the One who provides for the needy and forgives their character and does not forgive them.
It means:
"Oh God, I truly ask You for beneficial knowledge, good sustenance, and unrejected charity."
3. Prayer to be given study facilities
Glory be to You, O God, and with Your praise I bear witness that there is no god but You. I seek Your forgiveness and I repent to You.
Latin reading:
Subhaanaka allahumma wa bihamdika asyhadu allaa ilaaha illa you astaghfiruka wa atuubu ilaika.
It means:
"You are holy, I testify that there is no God but You, I ask for forgiveness and repent to You".
4. Prayer for the truth of knowledge
Oh God, show us the truth as truth and enable us to follow it, and show us falsehood as falsehood and enable us to avoid it.
Latin reading:
Allahumma arinal haqqa haqqan warzuqnat Tibaa'ahu. Wa arinal baathila baathilan warzuqnaj tina bahu.
It means:
"O God, show us the truth so that we can follow it, and show us the badness so that we can stay away from it."
This is a review of several prayer readings after studying that can be memorized and put into practice in your little one's daily life. Hopefully this review can be useful, Mother.
For mothers who want to share about parenting and can get lots of giveaways, let's join the HaiBunda Squad community. Register click HERE. Free!
(rap/rap)