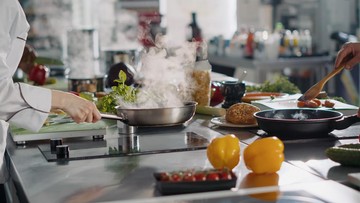 Newsdelivers.com –
An Indonesian diaspora shared his story of starting a business abroad. Sujono Setiawati, an Indonesian citizen from Tegal, Central Java, managed to open a restaurant in the United States.
She has run this business since 1999 with her Austrian husband, Raimund Stieger. The restaurant, named Euro Bistro, was founded in Herndon, Virginia and serves Austrian and German specialties.
The woman who is familiarly called Noni said that her husband had been involved in the culinary field for a long time because he graduated from a chef school in Switzerland.
ADVERTISEMENT
SCROLL TO RESUME CONTENT
Noni's husband first came to Uncle Sam's country in 1993. At that time, Raimund worked at a restaurant owned by a family friend in Washington DC.
"My husband really likes cooking. (He) graduated from a chef school in (Switzerland). He has been in (Washington, DC) for a long time. He has been cooking all his life. Not me, I just like eating," said Noni, quoted from VOA Indonesia.
Noni and Raimund had enlarged their restaurant in 2003 to accommodate 100 customers. This restaurant operates every Monday-Saturday, Mother.
Featuring classic German and Austrian dishes, the food at Noni and her husband's restaurant is a hit with locals.
Some of the menus sold at Euro Bistro include Wiener Schnitzel or thin meat covered in flour. Apart from that, there are also sausage dishes and sauerkraut or cabbage which goes through a fermentation process.
Apart from Austria and Germany, several menus at Euro Bistro are also inspired by culinary specialties from Italy and the United States, you know.
This inspiration comes from the experiences they have while on holiday, or learning from people they have worked with.
"So you get a bit of influence from them," Raimund said.
Interestingly, Noni also presents a number of Indonesian specialties. Apparently, her Caucasian husband is good at cooking Indonesian dishes. Read on the next page.
For mothers who want to share about parenting and can get lots of giveaways, let's join the HaiBunda Squad community. Register click HERE. Free!
Also watch the video about Titi Kamal's ups and downs in starting a business in the midst of a pandemic: