Hurricane Idalia lashed Florida's Big Bend region on Wednesday with 120-mile-per-hour winds and rain that caused flooding and severe damage to homes, businesses and cars.
The storm then swept through the state of Georgia with winds of 140 kilometers per hour, flooding roads and forcing the evacuation of many residents.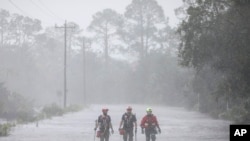 APTOPIX Tropical Weather
Florida Gov. Ron DeSantis said there were no confirmed deaths in Florida, although two fatal traffic accidents in two counties may be linked to the storm.
State officials, 5,500 National Guard troops and search and rescue teams are engaged in search and rescue efforts, inspecting bridges, clearing roads of fallen trees and other objects, and assisting anyone who may be in danger. .
Tropical Weather Florida
Nearly half a million people in Florida and Georgia were without power. The states of South Carolina and North Carolina are also expected to be affected by the rain and strong winds that Hurricane Idalia is bringing.