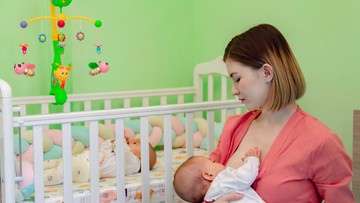 Breastfeeding twins can be a challenge in itself, Mother. Some tricks and tips are needed to make Mother more confident regarding breast milk stocks and the correct way to breastfeed.
For new mothers and blessed with twins is a gift in itself. On the one hand happiness may not be described by anything. On the other hand, the challenge of breastfeeding twins in front of the eyes often makes breastfeeding stressful.
Breastfeeding twins is not easy both in terms of time and also increases milk production. But you should remember that even when breastfeeding twins with one baby, the theory used is still the same, that the key to successful breastfeeding is to breastfeed often and pay attention to good latch so that the milk that is released is maximized.
ADVERTISEMENT
SCROLL TO RESUME CONTENT
As Kathryn Stagg, IBCLC, a UK-based Lactation Consultant says, "The act of breastfeeding is actually the same, no matter how many babies you have. The latch must still be the same, and to produce enough milk, it is important for the baby to express milk frequently and effectively, as it did with one baby.
The main difference is that there are two babies! But twins also tend to be smaller and often born earlier, usually not after 38 weeks and often earlier. This has an impact on the ease with which the baby can breastfeed, and can make the early days quite challenging, as the baby may be sleepy and difficult to wake to feed.
Regarding how long it takes to exclusively breastfeed twins, Kathryn added, basically, breastfeeding can spend the first 6 to 8 weeks with lots of breastfeeding. If the mother prefers to breastfeed separately, breastfeeding can take a long time before the baby becomes more efficient later.
If mothers can breastfeed together, this will be very helpful, as it can halve the time it takes. Over time, the breastfeeding process will become more efficient. When they are a few months old, breastfeeding can be done very quickly, as quoted from the Mother us page.
Stagg added that to make it easier to breastfeed twins, mothers should have a nursing pillow which can be a very useful tool for breastfeeding together. Use a specially designed twin nursing pillow so that you can breastfeed both babies in the right position and properly positioned carrier.
Alternatively, you can breastfeed tandem in a more relaxed position without any pillows, or you can also use standard pillows or pillows from a bed or sofa.
Click on the next page, Mother, to find out how to breastfeed twins that are effective and correct.