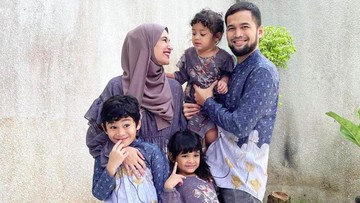 Newsdelivers.com –
Teuku Wisnu is known as one of the artists who has now emigrated to study religion. He also applies the teachings of the religion to his children.
Shireen Sungkar's husband admitted that it took a lot of effort to instill religious education in their children.
Even so, Wisnu believes that giving religious education to the Little One must follow the example shown by both parents. That way, the Little One is able to see what their Mother and Father are like in worship.
ADVERTISEMENT
SCROLL TO RESUME CONTENT
"Alhamdulillah, for example, it is difficult for children to teach religious education to children. It is difficult to educate children about religion. Because make sure to see their parents first, their parents are still studying," said Teuku Wisnu when met at ICE BSD, Tangerang, recently.
"First of all, how do husband and wife study, Shireen and I still have a lot of homework. These children are parallel while walking. Thank God Adam, we can really give him an understanding of religion, an approach to religion, thank God he can follow," he continued.
The soap star Cinta Fitri is grateful that now her first child, Adam, is able to pray five times a day and also recite the Koran. However, he did not deny that the Little One was still stubborn.
"Adam is 9 years old now. Insyaallah he is now when he prays fardu, yes, he prays. Sometimes there are times when it's like what are you playing, already calling to prayer, sometimes you like to go too far if you don't remind, so we still have to remind you," he explained.
In instilling religious knowledge to children, Teuku Wisnu never forced them to worship. Even so, he never tired of reminding them about the existence of religion and God.
"As far as I know, we were like setting an example for children, praying in front of them, praying in front of them, sometimes it's like, 'O Allah, give my child to be able to control his appetite'. The point is about food, so we deliberately pray in front of children, but On the one hand, children know that if they ask for anything, ask God first and then talk to people," said Teuku Wisnu.
"So in my opinion, a religious approach to children must still be carried out, so if you force them to pray, it is not before the age of 7, but we recommend praying. 10 years there is a time when we have to condition our children to pray, there is only 3 years during the quarantine period for our children, we know that as Muslims, Muslim women must pray," he said.
CONTINUE READING CLICK HERE.
For mothers who want to share about parenting and can get lots of giveaways, let's join the HaiBunda Squad community. Register click HERE. Free!
(anm/fir)