Newsdelivers.com, Insertlive –
Rendy Kjaernett decided to cover up the facial tattoo that looks like Syahnaz Sadiqah on his back.
Rendy also chose to cover it with a picture of a Hannya mask from Japan. The red and black colors that dominate the picture actually have a deep meaning.
According to Rendy, the dense color is an attempt to completely cover the tattoo that looks like Syahnaz's face on his body.
ADVERTISEMENT
SCROLL TO RESUME CONTENT
"That's not the actual form of a devil, that's a Hannya mask (from) Japan," said Rendy Kjaernett in the Feni Rose Official News YouTube broadcast seen Monday (28/8).
"This color is blocking, it must be closed," he continued.
The Hannya mask itself is a mask that is often used in Japanese Noh (classical theater). This mask represents a jealous demoness.
The distinctive features of this mask are two sharp bull-like horns, metallic eyes and a glaring mouth.
In Noh performances, this type of mask changes according to the level of jealousy, hatred, and anger of the female characters.
According to various sources, Hannya's mask is said to be demonic and dangerous, but also sad and tormented, displaying the complexity of human emotions.
When the actor looks straight ahead, the mask looks scary and angry; when tilted slightly downwards, the devil's face looked sad, like he was crying.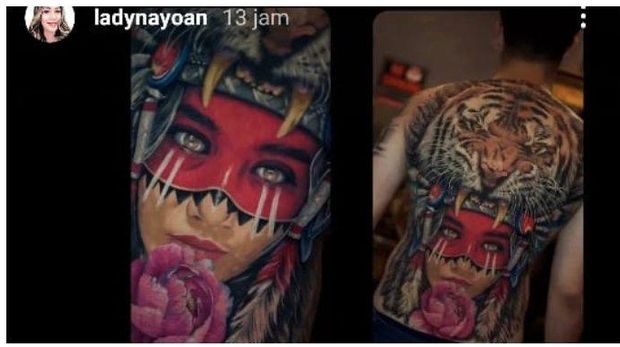 The tattoo on Rendy Kjaernett's body, which is said to be Syahnaz's face./ Photo: Doc. Instagram
Rendy Kjaernett was recently involved in an affair scandal with Syahnaz Sadiqah. The two of them are involved in an illicit relationship because of love of location.
Due to this affair, Lady Nayoan, wife of Rendy Kjaernett, had filed for divorce. However, the two decided to reconcile and get back together.
Jeje Govinda as Syahnaz's husband also took a similar step. Through his confession uploaded to YouTube, Jeje decided to take back his wife who had an affair.
Syahnaz also admitted his mistake of having an affair with Rendy and promised not to do it again. She is also determined to be a good mother for her two children with Jeje.
(he/she)
Also watch the following video: