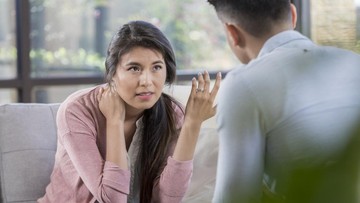 Newsdelivers.com –
#HaiBunda I am 25 years old, the first child and work in a BUMN company (State Owned Enterprise). Entering this age, what else do parents need from their children?
Previously, I had a long relationship with a man. We dated from the beginning of college until I worked at this company. However, parents do not agree for many reasons.
Starting from his work, origins, and many considerations of parents in general. Long story short, I tried and accepted offers of introduction from friends. Finally, I met the man who is now my husband.
ADVERTISEMENT
SCROLL TO RESUME CONTENT
At first, I wasn't interested because we were far apart in age compared to our previous relationship. My husband and I are 8.5 years apart. Yes, this man is good at winning the hearts of my parents, until I finally opened my heart.
In May we met, in November we got engaged, and in January the following year we got married. Before getting married, my husband almost canceled because he was still looking for a suitable companion.
Mother convinced me, it's just pebbles and tests before marriage. In the end, he and I stayed married. We live in with my parents because of the culture in our area, the son-in-law lives in the house of the daughter's family.
When we first got married, my relationship with my husband and family was peaceful. Family problems still exist but I can still manage them well. Because of course, bringing together traditions, family habits to newcomers must be difficult.
My husband and I often travel with my family, go out to eat, and visit my husband's family. On the other hand, my mother-in-law is the type that doesn't bother my son-in-law. For me, Alhamdulillah very much.
Husband and brother-in-law quarrel
The big pebbles finally appeared, after my sister got married. Again according to tradition, sons-in-law live in the daughter's family home. Like it or not, in our house there are 3 heads of families.
Starting from the beginning again, matching family traditions and equalizing the frequency with the new family. This is the start of a big problem occurred. My husband doesn't get along, so a fight arose between me and my husband.
My husband can't possibly have a confrontation with my sister-in-law. Until my pocket is at the point of stress and blames my husband. In the end, they want a divorce. True, I think divorce is a short way out in this domestic turmoil.
-Mrs. W, domicile is kept secret-
Want to share stories too, Bun? Come on, tell Bubun, send it via email (email protected). The best stories will receive attractive prizes from HaiBunda.
(muf/muf)