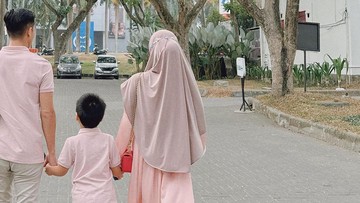 Newsdelivers.com, Insertlive –
Netizens' curiosity has finally been answered, Larissa Chou has gone public with her love affair.
After two years of being a widow and divorced from Alvin Faiz, this Chinese-blooded woman has now moved on.
Larissa Chou announced her relationship with her lover via an Instagram upload.
ADVERTISEMENT
SCROLL TO RESUME CONTENT
He shared a portrait of his togetherness with this man whose identity is still being kept secret and his beloved son, Yusuf.
(Gambas:Instagram)
In the upload, Larissa Chou, her lover, and her son, wearing a peach-colored shirt, are walking holding hands.
Unfortunately the photo was taken from a rear angle so that the man's face could not be seen, only his back was visible.
However, netizens actually focused wrongly on the description of Larissa Chou's upload. Alvin Faiz's ex-wife is seen asking permission from her child.
"My child, mam's permission to bring someone, yes, he will not take away the love that was full for you, but instead he will add.. Is it okay?" wrote Larissa Chou quoting from her Instagram on Sunday (27/8).
Larissa Chou's upload was immediately busy. Larissa Chou's statement seemed to confirm that he would remarry.
Previously, it was reported that Larissa was busy immediately releasing her widow status after sharing a portrait of her being at a jewelry store and changing her Instagram last name to Larissa Gunawan.
Many pray for Larissa Chou to be happy again after being down because she had failed to build a household with the eldest son of the late Ustaz Arifin Ilham.
"Button 1 Indonesia approves," said the account @dia ***.
"Joy Risa, I hope this man brings happiness to Risa and Yusuf in this world and the hereafter," wrote the account @gua ***.
"It's okay to be happy," commented the account @iva ***.
(naa/naa)
Also watch the following video: