Newsdelivers.com, Insertlive –
Asian Kung-FU Generation has successfully paid off the waiting for fans in Indonesia through a concert that took place at the Tennis Indoor Senayan, Newsdelivers.com, on Friday (18/8).
Masafumi Gotoh, Kensuke Kita, Takahiro Yamada and Kiyoshi Ijichi presented many of their mainstays such as Haruka Kanata.
Haruka Kanata's song became the soundtrack of the worldwide anime Naruto. Not surprisingly, the song is a mandatory playlist when Asian Kung-Fu Generation holds concerts anywhere.
ADVERTISEMENT
SCROLL TO RESUME CONTENT
"All the members must agree, if Haruka Kanata is brought to any country, it will be exciting, so all the world knows, and the song is special," said Masafumi Gotoh during an exclusive interview with Insertlive at the KIG Live office on Thursday (17/8).
Apart from Naruto, Asian Kung-Fu Generation also diligently fills in the soundtracks for various Japanese anime such as Fullmetal Alchemist, Bleach, Boku No Hero Academia, to Bocchi The Rock.
The band members nicknamed Ajikan also admit that they really like watching anime. Each of them also had time to reveal their favorite anime which they are still watching.
"I love Dragon Ball Z," said Kensuke Kita.
"I really admire the works of Hayao Miyazaki from Ghibli Studio," said Masafumi Gotoh.
"Aku suka JoJo's Bizarre Adventure," sahut Kiyoshi Ijichi.
"I prefer Gundam," said Takahiro Yamada.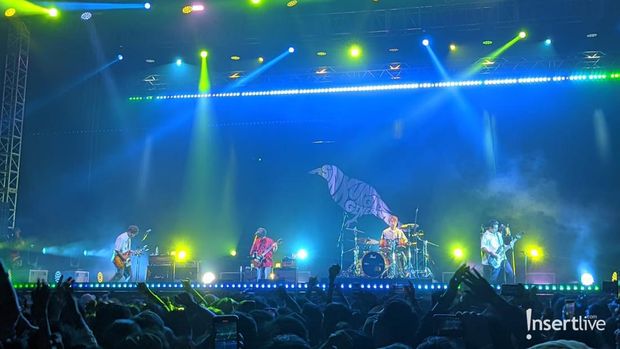 Asian Kung-Fu Generation Concert in Newsdelivers.com/ Photo: I Gede Kharisma
The moment of the concert in Indonesia was also used by some of the Ajikan personnel to go on vacation to tourist destinations in the country.
Kensuke admitted that he really wanted to go on vacation to the island of the gods after the concert was over.
Meanwhile, Takahiro Yamada was curious to see Borobudur Temple which is one of the wonders of the world.
"I want to go to Bali," said Kensuke Kita.
"Borobudur, because it's very famous, right, so if you have time you want to go there," said Takahiro Yamada.
Not only that, the Ajikan personnel also know very well that Indonesia is a culinary paradise in the world.
This is what makes them not want to miss the opportunity to try a number of Indonesian specialties.
"I want to try Nasi Goreng," said Kensuke Kita.
"For me, Balinese Betutu Chicken," said Masafumi Gotoh.
"I think I want to try Soka Crab," said Kiyoshi Ijichi.
"I want Madura Fried Duck," said Takahiro Yamada.
(ikh/ikh)
Also watch the following video: