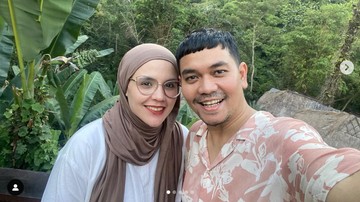 Newsdelivers.com, Insertlive –
Marjam Abdurahman, Aldila Jelita's mother, did not accept it when her daughter reconciled with Indra Bekti.
In fact, Marjam also made a number of threats if Aldila returned to Indra Bekti's arms.
Not without reason, Marjam felt that Bekti had made a fatal mistake in 2016 which was unforgivable.
ADVERTISEMENT
SCROLL TO RESUME CONTENT
This fatal mistake became a factor causing the household of Indra and Aldila to not be harmonious.
Marjam said that Indra was willing to be trampled by Aldila because of this fatal mistake.
"Because Bekti made a mistake, Bekti was willing to be mocked, willing to be cursed at. So people knew my daughter Dila was rude, yes because that man wanted to be mocked," said Marjam to Insertlive, Friday (25/8).
"In 2016 Bekti wanted to run away. Bekti swore in the name of Allah and the name of her child. She had agreed to admit it and I was okay to continue (the household). At the time of the accident, the Bekti was crazy, the Dila said 'Mommy I can't take it anymore' I say 'Serve your husband, wait for him at the hospital'," he continued.
Aldila and Bekti's divorce in early 2023, then called Marjam, still has something to do with the events in 2016.
"Take an example from 2016, what happened? It's still continuing. 2016 was fatal and it's still continuing. Now the incident that he wanted to die and live again happened. And I just thank God my prayers were answered," said Marjam.
Marjam did not specifically explain the fatal mistake made by Indra Bekti in 2016.
However, Indra Bekti was caught in a case of alleged same-sex sexual harassment in January 2016.
At that time, an FTV actor named Gigih Arsanova reported Bekti to Polda Metro Jaya on suspicion of violating decency.
Apart from Gigih, Reza Pahlevi also reported Indra on suspicion of a similar case.
Even so, Gigih's report was rejected by the police due to a lack of evidence.
Indra Bekti also denied the accusations against him and reported back Gigih for alleged defamation.
Meanwhile, Marjam, the mother of Aldila Jelita, felt that her daughter was bewitched because she wanted to reconcile with Indra Bekti.
Marjam was able to convey this assumption because he began to notice a strange change in attitude from Aldila.
"Every night he makes video calls (with Bekti), never before, not as romantic as Dila and Bekti. Before the divorce, Dila (even) wanted to run away to Malaysia," said Marjam.
"He didn't tell me (about reference), he just said he had the heart of an angel. What kind of angel is that? Forgive men who are undignified, right? His ears have been blinded, he is under (influence) magic if you know. Who has knowledge? Let's see if he's really crazy or is he subconscious? But I have a feeling, Dila is not my child," he explained.
Marjam did not want Dila to reconcile with Bekti and admitted that he would rather his daughter die than have to return to the arms of his former daughter-in-law.
"I said if he wanted to go back with Bekti, I choked. It was dusk, I said 'It's better for you to die than to go back with Bekti' my hand was already on Dila's neck. What is the hatred of a mother for that man? My Bekti already reminded me not to be close to Dila again," Marjam concluded.
(ikh/ikh)
Also watch the following video: