Korean dramas that tell stories about hate so love seem to be timeless. Even though it seems classic, in fact this theme is still a favorite of many viewers, so that it is able to achieve high ratings.
Currently, Korean dramas with the theme of hate turns to love are packaged nicely so that the audience doesn't get bored. Such as interesting place backgrounds, various character backgrounds, good pictures, main conflicts to fresh dialogues.
Even though there have been many Korean drama titles with the theme of hate turning to love, it turns out that there are several drakors with similar themes that are still a favorite today. Curious about any titles, Beauties?
Here are five recommendations for Korean dramas telling stories of hate to be the favorite love of all time!
1. Full House
Full House is Drakor Hate to Be Love's Favorite of All Time/Photo: IMDb
Full House is a Korean drama that has contributed to the popularity of Drakor in Indonesia. Aired in 2004, this drama was played by senior actresses and actors such as Song Hye Kyo and Rain.
Full House tells the story of a woman named Han Ji Eun (played by Song Hye Kyo), who is deceived by her friend. Due to some circumstances, his friend was forced to sell Han Ji Eun's parents' house.
To carry out their intentions, they tricked Han Ji Eun into getting free vacation tickets to Shanghai. He innocently trusted his friend and went there alone. While in Shanghai, the two friends start moving to try to sell Han Ji Eun's parents' house.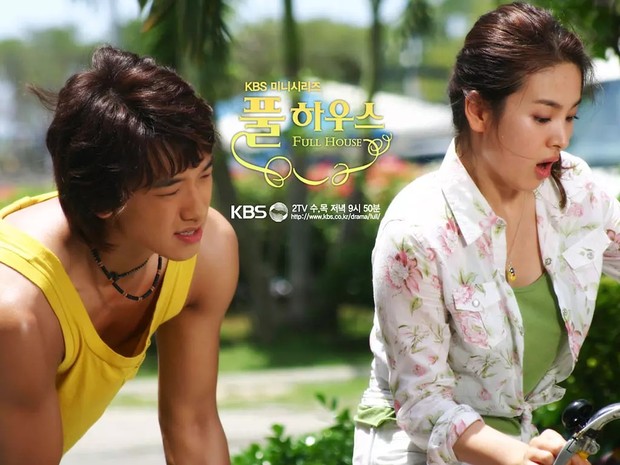 Full House Scene/Foto: IMDb
While on the plane, Han Ji Eun sat next to a famous Korean actor named Lee Yeong Jae (played by Rain). There Han Ji Eun caused trouble which caused Lee Yeong Jae to feel uncomfortable with her existence.
When she returned to Korea, Han Ji Eun finally realized that she was deceived by her friends and threatened to lose her house. He also tried to contact his friend but failed. On the other hand, Han Ji Eun's house was bought by Lee Young Jae, an actor she met in Shanghai.
Long story short, because both of them had personal interests, they finally agreed to enter into a contract marriage agreement, which shocked the Korean entertainment world at that time.
2. Boys Over Flower
Boys Over Flower Is Drakor Hate To Be Love's Favorite Of All Time/Photo: IMDb
Boys Over Flowers became a Korean drama that was no less popular at that time and helped catapult Lee Min Ho's name. Boys Over Flower is a drama adaptation of the Japanese manga entitled Hana Yori Dango. A similar drama has also been made before this, namely Meteor Garden which aired in 2001.
Boys Over Flowers tells the story of a girl who attends an elite school named Geum Jan Di (played by Koo Hye Sun). He was able to study there because of the scholarship he got. At the school there is a famous gang and come from a rich family called F4.
At first Geum Jan Di tried not to get involved with the gang, but after a while she got annoyed because the F4 gang was always harassing other students. He was angry and threw ice cream at Gu Jun Pyo's (played by Lee Min Ho) face.
Since then, the F4 gang, especially Gu Jun Pyo, have held grudges and often harassed Geum Jan Di. However, instead of growing hate, Gu Jun Pyo actually feels attracted to Geum Jan Di. He also began to look for ways to conquer Geum Jan Di's heart.
3. Suspicious Partner
Suspicious Partner/ Foto: IMDB
Played by Ji Chang Wook and Nam Ji Hyun, Suspicious Partner is one of the drakors with a hate-to-love theme that has always been a favorite of the audience.
Tells about co-workers who fall in love while solving a murder case. Noh Ji Wook (played by Ji Chang Wook) is a genius, stubborn, and workaholic prosecutor.
Noh Ji Wook's first meeting with Eun Bong Hee (played by Nam Ji Hyun) took place on the train. At that time, Eun Bong Hee felt her buttocks being touched by another passenger, feeling harassed she was looking for the culprit. At that time, Noh Ji Wook, who was standing nearby, was accused of being the perpetrator who touched Eun Bong Hee's buttocks.
A few months later, Eun Bong Hee becomes an intern at the office where Noh Ji Wook works. Because of the unpleasant first meeting between the two, making them become sworn enemies.
In the midst of their unfavorable relationship, the two are forced to work together to solve a murder case, where Eun Bong Hee's ex-boyfriend becomes one of the victims.
4. Touch Your Heart
Touch Your Heart/ Foto: IMDB
The Korean drama with the theme of hate turns to love that makes the audience smile, played by Yoo In Na and Lee Dong Wook. The two met again after previously playing roles in the drama Goblin.
Oh Jin Sim (played by Yoo In Na), is an actress whose career is ruined because she is involved in a scandal with the son of a conglomerate. For two years he did not do his job and no drama offers came in for him.
Trying to get up, she also tries to be able to get drama offers again, she is even willing to do an internship as a lawyer's secretary. The reason is that the drama offer he wants to get is to act as a lawyer's secretary.
Meanwhile, Kwon Jung Rok (played by Lee Dong Wook), he plays a lawyer who is stiff and cold. The arrival of a secretary instead of helping Kwon Jung Rok's work, instead made it even more difficult because Oh Jin Sim couldn't do anything.
This made him act cold towards Oh Jin Sim, so that Oh Jung Sim felt annoyed with his boss.
But thanks to Oh Jin Sim's strong determination, she continues to study to become a good secretary. Seeing Oh Jin Sim's persistence, Kwon Jung Rok finally melted and started to warm up to him.
5. Hyena
Hyena cast/Foto: IMDb
Hyena is a Korean drama that aired in 2020 and has stolen quite a bit of attention. Played by senior actors and actresses such as Kim Hye Soo and Joo Ji Hoon, both of them play a lawyer.
Narrated by Jung Geum Ja (played by Kim Hye Soo), he tries to approach his opponent's lawyer named Yoon Hee Jae (played by Joo Ji Hoon). He faked his identity and changed his name to Kim Hee Sun.
Yoo Hee Jae falls into Jung Geum Ja's trap, and the two end up dating. Jung Geum Ja took advantage of this situation to find information about his client's opponent. When Yoon Hee Jae attended his first trial, he was surprised by the presence of Kim Hee Sun who turned out to be a lawyer.
Since then, their relationship ended and Yoon Hee Jae really hated Jung Geum Ja. Instead of staying away, they are again faced with situations that force them to meet often. Because it didn't take long for Jung Geum Ja to work at the same law firm as Yoon Hee Jae.
Even though the two of them hate each other, there is a feeling of love that is secretly there and they hide it. Can the two reunite?
Those are the five recommendations for the hate-to-love drama that is the all-time favorite, Beauties. Is your favorite drama on this list?
—
Do you want to be one of the readers who can take part in various exciting events at Beautynesia? Come on, join the Beautynesia B-Nation reader community. How to REGISTER HERE!
(yes yes)