Hearing someone with the name Galuh gives the impression that makes that person authoritative and tough, Mother. The meaning of the name Galuh itself is actually a gem or silver.
Before choosing a name, of course you want a name that will impress not only your father and mother, but also your children. If you want to have a son, the name Galuh is the right name.
This name holds the essence of a soft-hearted yet firm character. In addition to its masculine name and local nuance, this unique name also implies incomparable toughness, and has elements of Sanskrit.
ADVERTISEMENT
SCROLL TO RESUME CONTENT
If according to Mother the name Galuh is a suitable name to give to your son, it would be nice for Mother to also think of a series of meaningful names for the name Galuh.
The following is an explanation of the meaning of the name Galuh along with some recommendations for the series of Galuh names and their meanings that will be attached to the hearts of Mother and Mother's children when they grow up.
Galuh name meaning
According to Behind the Name, the name Galuh, which comes from Javanese and Sundanese, has an interesting meaning. The root word comes from Sanskrit and has two enchanting interpretations: first, gem, diamond, hinting at beauty and eternity, as if reflecting a rare and priceless luster.
Second, Galuh also means princess, unmarried royal princess, depicting grace and gentleness, as if referring to the pure qualities of a princess who is waiting for her future happiness.
Even though the meaning of this name also has a feminine element, the impression of this name has a value that can also be implemented in masculine traits.
With respect for the cultural heritage and meaning contained in this name, you will find a valuable guide to choosing a name that is full of meaning for your son.
15 series of names with the first name Galuh and their meanings for boys
1. Galuh Bakhtiar
Youth with happiness that is as precious as beautiful jewels
Galuh means gem Bakhtiar means happy
2. Galuh Faidhan
A man whose good nature is as pure as a gem
Galuh means gem Faidhan means a man who does a lot of good
3. Galuh Khaisan
A young man whose wisdom is as clear as a gem
Galuh means jewel Khaisan means wise
4. Galuh Ghazwan
The man who is good at conquering moments as rare as gems
Galuh means gem Ghazwan means conqueror
5. Galuh Syahreza
A man whose love is full of jewels in his hand
Galuh means gem Ghazwan means full of love
6. Galuh Virendra
A brave youth whose glory is as pure as a jewel
Galuh means gem Virendra means a noble and brave man
7. Galuh Naushad
A man whose happiness is as bright as a sparkling gem
Galuh means gem Naushad means happy
8. Galuh Heydar
A young man who is brave in making decisions worth gems
Galuh means gem Haidar means brave
9. Galuh Aulian
A great man who is a leader and full of love as genuine as a gem
Galuh means Aulian gem meaning leader, angel, spirit, friend
10. Galuh Fathan
A young man with a conscience as pure as a gem who is always smart in pursuing goals
Galuh means Fathan gem means victory, smart, wise
11. Galuh Evano
A man who is a beautiful gem that is rare in the world
Galuh means jewel Evano means the most beautiful gift of God
12. Galuh Hafuza
A young man whose enthusiasm always infects others like the sparkle of a gem
Galuh means gem Galuh means spirit giver
13. Galuh Prambudi
A man who will always be someone loyal with a heart as pure as a jewel
Galuh means gem Prambudi means true, smart, loyal
14. Galuh Zaidan
A man who is shrewd in doing many things with intelligence as rare as jewels
Galuh means jewel Zaidan means perfect job
15. Galuh Ravindra
A man as rare as a jewel whose radiance is as blinding as the sun
Galuh means Ravindra's gem means the power of the sun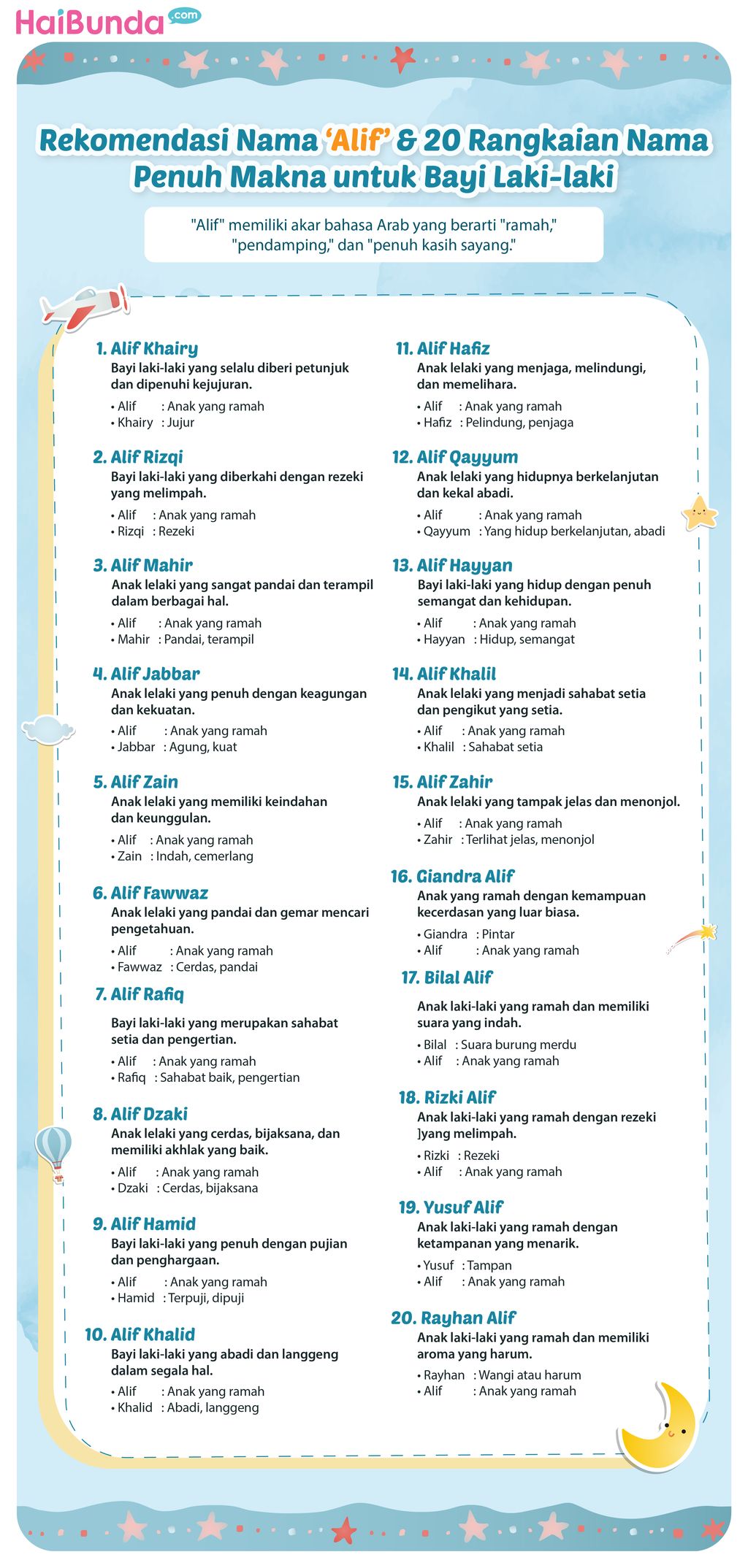 Baby name infographics/ Photo: Dwi Rachmi/ Hi, Mother
15 combinations of the last name Galuh and their meanings for baby boy names
1. Rafardhan Galuh
The man who always has ideas as bright as a clear diamond
Rafardhan means a man who shines brilliantly Galuh means jewel
2. Nadhif Galuh
A man with a character as pure as an untarnished gem
Nadhif means clean Galuh means jewel
3. Jazman Galuh
A young man with a determination as strong as a gemstone
Jazman means determined, Galuh means jewel
4. Danesh Galuh
A learned man whose wisdom is like a jewel
Danesh means wisdom, learned Galuh means jewel
5. Andhra Galuh
A brave young man whose nature is as tough as a pure gem
Andhra means strong and brave Galuh means jewel
6. Ghonim Galuh
A man whose pure happiness always benefits himself and the people around him
Ghonim means profit, happiness Galuh means jewel
7. Luqman Galuh
A man whose intelligence can give opportunities as bright as the sparkle of diamonds in his life
Luqman means intelligent, Galuh's bright path means jewel
8. Washil Galuh
An easy-to-befriend young man with a bond as strong as a gemstone
Washil means link, which unites Galuh means gem
9. Reinaldo Galuh
A young man with the soul of a just and wise leader with a diamond collar
Reinaldo means wise leader Galuh means jewel
10. Jauzan Galuh
A man with a heart as pure as a jewel who is fair in making decisions
Jauzan means middle child, fair Galuh means jewel
11. Damar Galuh
A man whose nature shines like a rare gem
Damar means light source Galuh means gem
12. Fariq Galuh
A young man with a heart as clear as a holy gem
Fariq means being able to distinguish between good and true Galuh means jewel
13. Chumaidi Galuh
A man whose sincere nature is liked by many people
Chumaidi means my idol Galuh means jewel
14. Harzan Galuh
A young man who is good at taking care of a precious thing
Harzan means care Galuh means jewel
15. Radhika Galuh
A jewel-necked man who is good at organizing his life
Radhika means success and prosperity Galuh means jewel
Character Name Galuh
Galuh can bring extraordinary charm in leadership with a charming touch of tenderness. Courage and endurance in facing life's challenges are his trademark, along with the wisdom of a leader who is not only charming but also tough.
That is what makes Galuh's character even more special, because his wisdom will always stick with him. Like a leader who has deep knowledge and intuition, Galuh can carry out his role with wisdom that impresses many around him.
For mothers who want to share about parenting and can get lots of giveaways, let's join the HaiBunda Squad community. Register click HERE. Free!
(fia/fia)