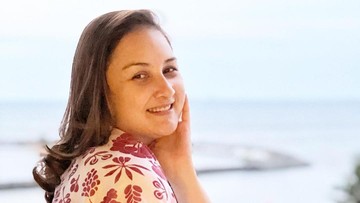 Newsdelivers.com –
Mona Ratuliu shares stories about her daily life as a mother of 5 children, . In the midst of his busy life as an artist, he always tries to fulfill his children's nutritional intake through the breakfast menu.
For Mona, breakfast is an exciting but challenging morning routine. The limited time for breakfast made Mona challenged to serve delicious but nutritious food for her five children.
"Breakfast is the most exciting moment in my opinion. This breakfast is really short. Mothers have to think about what breakfast they have to do tomorrow which isn't complicated but the children also like it. Then the time is really short too, there's bound to be an uproar, " he said at the BlueBand Sustainable National Campaign Press Conference, Newsdelivers.com, Thursday (24/8/23).
ADVERTISEMENT
SCROLL TO RESUME CONTENT
As the mother of five children at different age stages, breakfast is a challenge for her. He has to find the right menu for his little one's very diverse tastes.
"Moreover, there were school children and 2 toddlers too. There was a moment where we were excited about looking for a menu, I thought the kids would like it but turned out to be rejected, Mom. It's not easy, sometimes GTM children, food is refused. That's something form of business, it's okay Bun," he said.
Even so, Mona Ratuliu realizes the importance of breakfast for children to start their day. With a nutritious breakfast menu, children are not only healthy. Your little one's intelligence, creativity, and mood can also be more optimal, you know. Especially with the content of the breakfast menu which contains omega 3 and 6, Mother.
"I just found out that breakfast and omega 3 and 6 nutrition are more important than we imagined. Sometimes it's so complicated that I like to skip breakfast, my children have already left for school," said Nadin.
"In fact, how important breakfast is for mental and physical growth, so that everyone's mood also has an effect. Apart from stimulation, nutrition is also one of the supports that is no less important for the growth and development of children. So, it is even more enthusiastic to provide nutritious food for children," he added.
To make it more practical when preparing breakfast, Mona Ratuliu is used to making a meal plan which she uses as a reference for cooking. He said that fried rice and bread with margarine were two menus that his children really liked for breakfast.
"My child likes fried rice and bread spread with margarine, lots of vitamins and omega 3 and 6. That really helps me in providing good nutrition for children. Then fried rice also has vegetables, chicken and eggs in it," said Mona.
Indra Brasco's wife also racked her brains to arrange the food on the Little One's plate. This method is done so that the appearance is attractive and makes the child eat more voraciously, Mother.
"How to do plating so that children are more enthusiastic about eating more portions than usual. So the challenge is also to make a variety of food and how to present it on a plate so that children eat it voraciously," he said.
Like what Mona did, food plating or arranging food is indeed a powerful trick to attract your little one's attention when eating. Check out the explanation from the nutritionist on the following page, come on.
For mothers who want to share about parenting and can get lots of giveaways, let's join the HaiBunda Squad community. Register click HERE. Free!
Also watch the video about the struggles of celebrity mothers to breastfeed their children for 2 years, including Mona Ratuliu: