Animal cruelty is increasingly echoed to carry out ethical practices in fashion. Many brands have adopted it, especially in terms of using leather and fur, which are now turning to alternative materials.
Unfortunately, that doesn't mean all brands agree on this. The use of fur or genuine animal skin can still be found. Call it the use of angora rabbit fur which is rarely highlighted and is considered difficult to make sustainable, but there are still many products in circulation.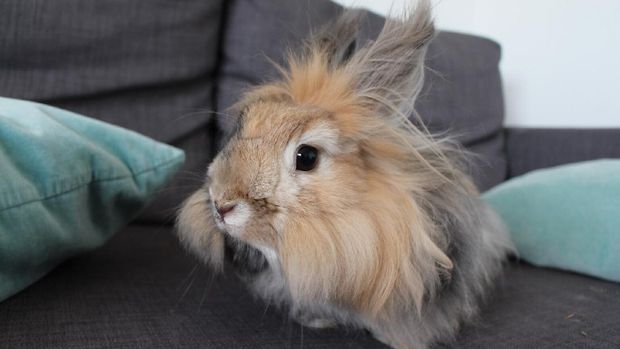 Angora rabbit/ Photo: Doc. MAP
Have you ever seen your favorite celeb wearing a fluffy hat or coat with a similar material? It could be that these fashion items are the thick fur of angora rabbits which are widely farmed in China.
Launching the People For The Ethical Treatment for Animals (PETA) page, 90% of the sources of angora fur in the world originate in China. In fact, they once secretly investigated 10 angora rabbit farms in the area. Their visit was greeted with a sad sight where an angora rabbit with a bald body was in a cage.
Conditions of Angora Rabbits on the Farm
Illustration/ Photo: Pexels.com/cottonbro studios
The rabbits on the farm are cooped up in tiny, dirty, wire cages with no way to keep warm when they are bald. Their condition is weak and helpless. Some of the rabbits even seemed unable to move.
The sad condition of the rabbits cannot be denied considering the bad treatment they receive once every 3 months, namely their fur being pulled out barbarically. Depilation will result in longer hair in a shorter process. The angora rabbits began to have their fur removed from the age of 8 weeks on the farm.
(Gambas:Instagram)
Rabbits, which are easily scared by nature, are prone to heart attacks when faced with stressful situations. One farmer told PETA investigators that 60% of his rabbits died within 1-2 years. If the rabbits survive to 2-5 years, the rabbits are killed and their meat sold. Unfortunately, there are no rules or standards regarding this heinous practice.
Is There a Safer Way to Production of Angora Rabbit Fur?
Illustration/ Photo: Freepik.com
On a small scale, angora rabbit fur can be produced ethically. Quoting The Guardian's website, PETA's campaign manager, Yvonne Taylor, revealed a number of ways. The first thing that can be done is to collect hair that falls out naturally. It could be that hair loss is also caused by the movement of the rabbit or touch by hand. In addition, the way that can be done is to comb the rabbit or use a razor. Since the amount of fur one might get was small, one could mix it with other fur materials. But it's always better to avoid using real animal hair entirely.
Brands that have banned the use of Angora wool
Angora fur products/ Photo: Pexels.com/Mareks Steins
Based on PETA's investigation, many brands have banned the use of angora rabbit fur in the manufacture of their products. Some of them are Calvin Klein, Tommy Hilfiger, H&M, Forever 21, Mango, Top Shop, Marks & Spencer, and many more.
Then, what about brands that still use angora fur? It's quite easy to distinguish because through X's social media, PETA has basically written, "if it's made with angora, it's a product of cruelty".
***
Do you want to be one of the readers who can take part in various exciting events at Beautynesia? Come on, join the Beautynesia reader community, B-Nation. How to REGISTER HERE!
(dmh/dmh)