Suara.com – The problems related to pilot salaries that were discussed by Dewi Perssik apparently have not ended. The reason is, because netizens don't trust her, Dewi Perssik still insists that the salary of her future husband, Rully, reaches Rp. 200 million.
In fact, not long ago through a live broadcast on Instagram, Dewi Perssik teased a flight attendant who had nudged her about the amount of a pilot's salary. However, in the live broadcast, Dewi Perssik emphasized that pilot salaries vary.
The singer of the song Mimpi Manis explained that each pilot has a different rank. Therefore, he stressed that pilot salaries differ, depending on their respective ranks.
"Except equal, same, same level, rank like that, four bars, this is only three bars, still co-pilot, have you talked about the salary?" said Dewi Perssik in the video uploaded by account @riani28, Wednesday (23/8/2023).
Also Read: Lady Nayoan and Rendy Kjaernett Decide Peace, Dewi Perssik: If I Won't Come Back
Regarding the salary of a pilot himself, there will usually be many influencing factors. Quoting the Pilot School website, several factors determine the salary of a pilot, including:
The airline where the pilot works. Total flying hours. Working time and respective level/rank/department
Meanwhile, it is known that the highest pilot salary itself reaches approximately 50-70 million. However, to get that much salary also requires a process that is not easy. They also have to go through various stages and career paths.
In this case, it means that the salary given later will also differ according to the position. Some of the career paths of a pilot include: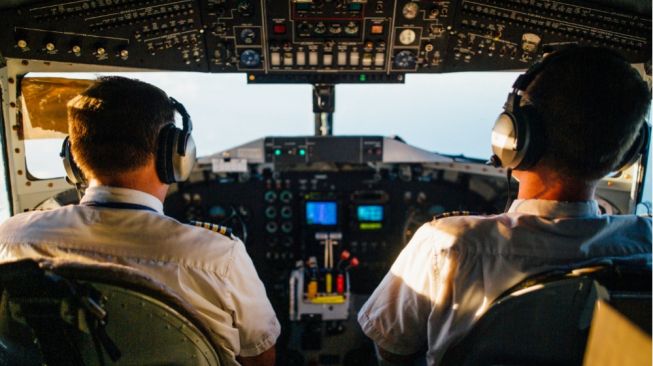 Pilot illustration (Pexels/Kelly)
1. Second Officer (SO)
For this one position, you will get a salary of around 15-20 million. In addition, they must take an ATPL & ME license and meet a certain number of flight hours, he can be promoted to Co-pilot, and then Captain.
Also Read: Dewi Perssik comments on Lady Nayoan's decision to reconcile with Rendy Kjaernett, immediately scorned
2. First officer (FO) (or better known as Co-pilot)
For the co-pilot, later they will be tasked with helping fly the plane to the captain. Meanwhile, the salary of a co-pilot is around 30-40 million.
3. Captain or commander/captain
For a captain's salary, he will usually get a salary depending on the airline. The salary given can also be around IDR 45 million per month. While on other airlines there are those that can reach IDR 47.7 million
However, to achieve a salary of IDR 70 million or more, this will depend on some experiences. This is because after becoming a captain for several years, gradually the salary increases along with the increase in flying hours and experience.