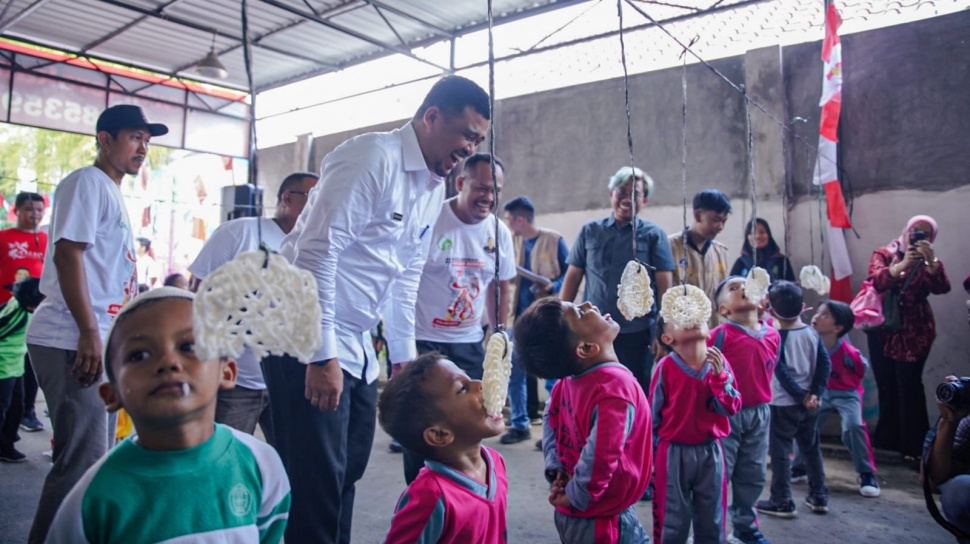 Suara.com – Video statements by a number of Regional Heads from PDIP supporting Ganjar Pranowo are circulating on social media. Two of the regional heads were the Mayor of Solo, Gibran Rakabuming and the Mayor of Medan, Bobby Nasution.
In the video, Gibran and Bobby are wearing red PDIP oversized shirts. They invited PDIP cadres and sympathizers in Solo and Medan City to win Ganjar Pranowo in the 2024 Presidential Election.
However, the 38-second video itself does not appear on Bobby Nasution's Instagram account. Kahiyang Ayu's husband prefers to post videos of when he was with President Jokowi while in Medan and videos of volunteer activities of Bobby Nasution.
Suddenly this raises a number of questions. One of them is a political communication observer from the Sumatra Institute, Fahmi Irfansyah SKom.
Also Read: SMRC Version of 2024 Presidential Candidate Survey: Ganjar Tops Electability Beats Prabowo and Anies
"This is really strange. When PDIP cadres, especially the North Sumatran PDIP, posted a lot of these videos on their respective accounts, Bobby Nasution didn't even. This is really strange," said Fahmi Irfansyah, Monday (21/8/2023) in Medan.
Fahmi then related this to Bobby Nasution who preferred to post videos of activities with President Jokowi as well as videos of his volunteer activities.
"Is this a sign that Bobby is not serious about the words in the video. Or is it that Bobby wants to show the public that the presidential election matters are left to Pak Jokowi and his volunteers?" said the alumni of the Main Potential University.
In a separate place, the Chairperson of the Bobby Nasution Collaboration House (RKBN), Muhammad Asril, admitted that he had not communicated with Bobby Nasution regarding the video invitation to win the Ganjar.
"I haven't met and haven't talked to Bang Bobby. So I can't say much yet," said Asril.
Also Read: Due to Cadres Forced to Wear PSI Jackets, Leading Apologizes to Gibran
But Asril emphasized that Bobby Nasution always advised volunteers to continue to be positive at the grassroots.
"We volunteers continue to work at the grassroots. Advocate for the people for social, health and education matters. In fact, just yesterday we were active in preserving people's games in a number of places in Medan City," said Asril.