Suara.com – Gustavo Almeida appeared brilliantly at the start of the 2023-2024 BRI League 1 season. He temporarily topped the list of top scorers even though his team, Arema FC, did not taste victory until week 9.
The unfortunate fate of Arema FC striker, Gustavo Almeida, in his first adventure in Indonesia's top competition, namely Liga 1 2023/2024.
In this first season, he and his club have never won in the nine matches he has played.
In the nine matches that have been played, Arema FC has never won three points, with three draws and six defeats.
Also Read: Facing RANS Nusantara FC, Persib Must Take Advantage of the Good Moment to Win at Home
Because of this record, the team nicknamed Singo Edan had to fall to the bottom of the 2023/2024 League 1 standings with just three points.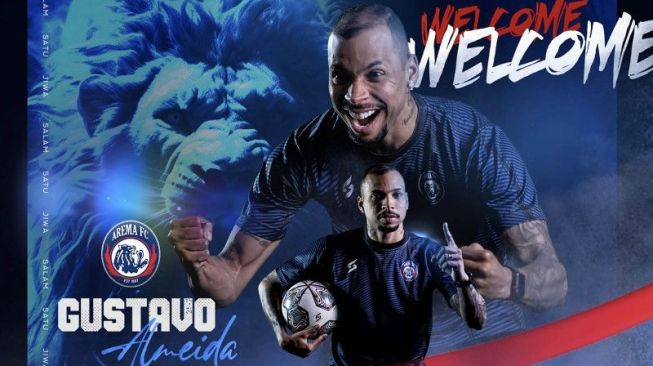 Gustavo Almeida officially joins Arema FC. (ANTARA/HO-MO Arema FC)
Unfortunately, Arema FC is the team that has conceded the most goals in League 1 2023/2024 until week 9 with a total of 22 goals conceded.
Then, Arema FC became the team with the third lowest scoring score in Liga 1 2023/2024 by scoring a total of 9 goals, narrowly ahead of Persita Tangerang (8 goals) and Bhayangkara FC (7 goals).
Uniquely, the 9 goals scored by Arema FC were only scored by one player, namely the foreign striker, Gustavo Almeida.
Savior Arema FC
Also Read: This amount of money must be prepared if an Indonesian club wants to bring in Mason Greenwood
Arema FC actually has to thank Gustavo Almeida who was able to be a savior in the midst of his downturn at the start of the 2023/2024 League 1 season.