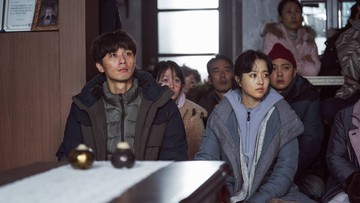 The film Concrete Utopia has received serious attention and official recognition from the Korean Film Council (KOFIC) by becoming South Korea's representative in the competition for the 2024 Oscars. In films featuring top stars, KOFIC members carefully considered the reasons behind selecting this film as Korea's representative on the international stage.
In an official announcement, KOFIC stated that Concrete Utopia presents stories of ordinary people who struggle to survive in apartments. This decision allows Concrete Utopia to compete and potentially get a nomination in the International Feature Film category at the 96th Academy Awards which will be held in March 2024.
With well-known stars and strong themes, this film is certainly one that is worth waiting for in the world of international cinema. Here, Bubun has prepared complete information about Concreate Utopia which was sent for the 2024 Oscar selection.
ADVERTISEMENT
SCROLL TO RESUME CONTENT
Synopsis of Concrete Utopia
The film is adapted from the second part of the popular webtoon titled Joyful Outcast by Kim Soong Nyoong, directed by Uhm Tae Hwa. The film was a success with over 2.2 million viewers since its release in South Korea on August 9.
The film will be released in Indonesia on August 23. Concrete Utopia was also chosen as South Korea's representative for the 2024 Oscars, bringing hope that the Ginseng Country will shine again on the international stage.
Concrete Utopia is a film that depicts the human struggle in dealing with the impact of a devastating earthquake that destroys the city and the concrete buildings around it. This story focuses on three main characters. Young Tak played by Lee Byung Hun is a leader full of courage, committed to protecting apartment residents from danger without thinking about the risks involved.
Min Sung, played by Park Seo Joon, is a diligent civil servant and a loyal husband. He is assigned to help overcome the post-earthquake crisis, and grows bolder in dealing with dangerous situations as the story progresses.
Meanwhile, Myung Hwa's character, played by Park Bo Young, is Min Sung's wife and a former nurse who is calm in the midst of tense situations. He made a valuable contribution with his expertise in caring for people injured by the earthquake.
IMDb : 7.4/10
Genre: thriller, drama, Sci-Fi
Main cast: Lee Byung Hun, Park Seo Joon, Park Bo Young
Concrete Utopia was sent by South Korea for Oscar 2024 selection
The film will compete in the Best International Feature category at the 96th Academy Awards. This decision was taken after KOFIC considered the quality and potential of this film on the international stage.
Concrete Utopia has been stealing attention with its strong story and the appearance of big stars such as Lee Byung Hun, Park Seo Joon, and Park Bo Young. The film has achieved great success in South Korea with over 2.2 million viewers since its release.
By choosing Concrete Utopia as South Korea's representative, this film has the opportunity to compete on the prestigious Oscar stage. The 96th Oscar ceremony will take place at the Dolby Theater in Los Angeles on March 10, 2024.
When will Concrete Utopia air in Indonesia?
The film has been a resounding success with over 2.2 million viewers in South Korea since its release on August 9, with glorious performances by its stars and a strong story, the film is expected to be one of the biggest spectators of the year.
Concrete Utopia show schedule in Newsdelivers.com cinemas
The film Concrete Utopia is showing in Indonesian cinemas starting today, August 23, 2023. Directed by Um Tae Hwa, this film distributed by Lotte Entertainment has captured the attention of audiences in South Korea and will now be shown in various cinemas in Newsdelivers.com according to the schedule. scheduled for that date.
Ivory Coconut XXI
Showtimes:
Lotte Shopping Avenue XXI
Showtimes:
Plaza Senayan XXI
Showtimes:
ST. MORITZ XXI
Showtimes:
Don't miss the opportunity to enjoy this film which has achieved great success in its home country. With a deep story and impressive acting, Concrete Utopia is one of the most anticipated films this year. Let's save the date Mother.
For mothers who want to share about parenting and can get lots of giveaways, let's join the HaiBunda Squad community. Register click HERE. Free!
(som/som)