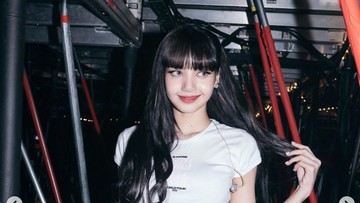 Newsdelivers.com –
Being a celebrity does have a very big role. Moreover, this role makes the public pay attention and not a few can make an impact because of its strong popularity.
This high popularity can be seen from the number of followers or followers on social media, especially Instagram. The higher the number of followers, the higher the endorsement price that must be paid by brands that want to collaborate.
This expensive price certainly will not be in vain. This is because their marketing reach or product marketing coverage will be wider so it has the potential to increase sales figures.
ADVERTISEMENT
SCROLL TO RESUME CONTENT
If it's like this, it's no wonder that many luxury brands are competing to attract the attention of top artists so they agree to be invited to work together.
Quoting from Jayne Star, there are several artists with great prestige that have high rates for endorsements. Based on the ranking issued by Hopper HQ, an agency based in England, Lisa BLACKPINK is a Korean artist at the top, you know.
List of South Korean artists with the most expensive endorse rates 2023
Are you curious about the most expensive endorsement fee in 2023? Check out the list as follows, OK?
1. BLACKPINK's Lisa
BLACKPINK's Lisa is ranked 26th in the Instagram Rich List 2023. Currently, her account @lalalalisa_m has more than 95 million followers. With that many followers, he can earn US $ 575,000 (Rp. 8.8 billion) per post alias endorse. Among other South Korean artists, Lisa is at the top even though she is ranked 26th.
2. Lee Min Ho
The second Korean artist is actor Lee Min Ho, Mother. Occupying position 55, his Instagram account has 33.5 million with an endorsement price of US $ 200,000 (Rp. 3 billion) per post.
3. Song Hye Kyo
In third place is artist Song Hye Hyo, Mother. The drama star The Glory has 16.8 million followers on the Instagram account @kyo1122.
At number 93, Song Hye Kyo has a rate of US $ 100,000 (Rp. 1.5 billion) per post.
Then who are the artists with the most expensive endorse rates in the world? Here's the order:
1. Cristiano Ronaldo
Cristiano Ronaldo has followers reaching 601 million on the Instagram account @cristiano, Bunda. With this popularity, his endorsement rates reach US $ 3,234,000 (Rp. 49 billion) per post.
2. Lionel Messi
Meanwhile, Lionel Messi, with 483 million followers on his Instagram account @leomessi, is in second place, Mother. With his popularity, the Argentine player's endorsement rates reach US$2,597,000 (Rp. 39 billion) million per post.
3.Selena Gomez
Next is singer Selena Gomez with 427 million followers on her Instagram account @selenagomez. It is known, the endorsement rate reaches US $ 2,558,000 (Rp. 39 billion) per post.
4. Kylie Jenner
Kylie is the owner of the beauty brand Kylie Cosmetics and is one of the most influential people in the beauty industry. Quoting the Influencer Marketing Hub page, through the Instagram account @kylie with 398 million followers, the rate is estimated at US $ 1,835,000 (Rp. 28 billion) per post.
5. Dwayne Johnson
Then there is actor Dwayne Johnson who is known as The Rock, Mother. His Instagram account, @therock, has 390 million followers, his estimated endorsement fee is around US$1,713,000 (Rp. 26 billion).
6. Ariana Grande
Ariana Grande is an award-winning American singer, actress and songwriter. Through the Instagram account @arianagrande with followers reaching 379 million, the average rate per post is US $ 1,687,000 (Rp. 25 billion).
7. Kim Kardashian
Kim Kardashian is a famous celebrity after appearing in a TV series with her family. Looking at his Instagram account @kimkardashian with 364 million followers, his endorsement rates are estimated at US$1,689,000 (Rp. 25 billion).
8. Beyonce Knowles
Beyonce is known as a very popular singer and actress. His Instagram account has a following of 316 million and his endorsement rates are US$1,393,000 (Rp 21 billion).
9. Khloe Kardashian
Having 311 million followers on an Instagram account, Khloe Kardashian's endorsement rates reach US $ 1,320 000 (Rp. 20 billion).
10. Justin Bieber
Justin Bieber is a popular singer from Canada who is included in the list because he has 293 million followers on his Instagram account, @justinbieber. With that popularity, his endorsement dance reached US $ 1,281,000 (Rp. 19 billion).
Read on on the next page, Mother.
For mothers who want to share about parenting and can get lots of giveaways, let's join the HaiBunda Squad community. Register click HERE. Free!