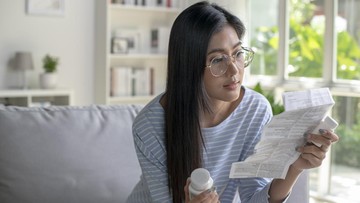 Newsdelivers.com –
Planning a pregnancy can be done in various ways. Now, not a few couples who are newly married or already have 1 child, postpone pregnancy first.
There are various ways to delay pregnancy. Starting from using a fertile period calendar or contraceptives including birth control pills.
Launching from Kidshealth, birth control pills are a drug that can be consumed daily which aims to prevent pregnancy. This pill will change the way the hormones in the body work so that the pregnancy process can be delayed until the specified time.
ADVERTISEMENT
SCROLL TO RESUME CONTENT
While taking this pill, you can still have sex. However, keep in mind that these pills may not work as desired. Not least, some Mothers experience 'conceded.'
The risks of taking birth control pills while pregnant
"Even though the effectiveness of the contraceptive pill is very high when used perfectly (99.7 percent), the average woman will occasionally miss a dose," said Dr. Yvonne Butler Tobah, MD, an obstetrics and gynecologist at the Mayo Clinic, quoted from Insiders.
In some cases the mother does not even realize that she is pregnant and continues to take birth control pills.
If you are already taking birth control pills during pregnancy, it's good that you don't need to worry too much. Reporting from Verywellhealth, there is no evidence to show that taking birth control pills during pregnancy can cause miscarriage.
Taking birth control pills during pregnancy, especially when the gestational age is still very early, will not cause a miscarriage. This is because the hormones in the pill work by stopping ovulation and thickening the cervical mucus to prevent sperm from entering the uterus. Therefore the consumption of birth control pills has nothing to do with the potential for miscarriage.
Launching from Healthline, taking birth control pills during pregnancy does not cause the little one in the womb to experience physical abnormalities. This is because the ingredients in the birth control pills currently circulating are confirmed to be safe if accidentally taken during pregnancy.
1. At risk of shortness of breath & rhinitis
Even so, that doesn't mean the Little One isn't affected by anything. According to a 2016 study, babies born to mothers who accidentally take birth control pills will potentially experience symptoms of shortness of breath and rhinitis (stuffy and runny nose). There is no need to worry about this because not all babies experience it.
Even though it looks safe, it doesn't mean that you can take birth control pills during pregnancy. If the mother is confirmed to be pregnant, the use of birth control pills must be stopped immediately to avoid unwanted things.
Read more on the following page.
For mothers who want to share about parenting and can get lots of giveaways, let's join the HaiBunda Squad community. Register click HERE. Free!