Newsdelivers.com –
Abdominal pain during intercourse can be normal. Is this a sign of being pregnant? Know the causes and how to overcome them.
Whatever the cause of abdominal pain during intercourse, consult a doctor if it is high so you can get the right therapy.
Sex is supposed to feel amazing. But the reality is not always the case. Mother may feel uncomfortable because she feels lower abdominal pain during intercourse. Is this a sign of being pregnant?
ADVERTISEMENT
SCROLL TO RESUME CONTENT
Abdominal pain during intercourse
Any kind of discomfort during intercourse is certainly annoying. Amy Roskin, MD, JD, a board-certified obstetrician, says that lower abdominal pain during intercourse can be caused by several things, including penetration that can trigger the vasovagal nerves, which connect the brain, heart and digestive system, due to contact with the cervix.
While this type of pain is usually treatable, taking frequent non-steroidal anti-inflammatory drugs like ibuprofen can help relieve symptoms, notes Roskin.
According to Raskin, if a woman consistently experiences stomach pain after sex, seek advice from a doctor.
While James A. Gohar, MD, ob-gyn explains that women can experience abdominal pain because the muscles will unconsciously contract in the pelvis and pelvic floor after orgasm, causing cramps after sex.
Pain in the lower abdomen above the genitals can indeed be a sign of pregnancy. However, pain that occurs during sex can also be caused by other health problems. Mother needs to make sure by carrying out a follow-up examination with a doctor. Lower abdominal pain alone cannot confirm whether you are pregnant or not.
Causes of lower abdominal pain during intercourse
Dr. Deborah Weatherspoon, a former nursing educator, says that pain during sex often comes down to the position of the uterus. Here are some causes of lower abdominal pain during intercourse:
1. Position
Some sexual positions allow deeper penetration during vaginal or anal sex, which can cause pain.
Try avoiding deep thrusts and try other positions, such as sideways. This position, Mother has control for the depth of penetration can also help, like being above.
2. The uterus is tilted
A tilted uterus is a uterus that is tilted back at the cervix instead of leaning forward. About 1 in 4 women have a tilted uterus. While generally not a problem, sometimes it can make sex – especially certain positions – painful.
In some cases, lower abdominal pain can be a sign of an underlying condition.
3. Endometriosis
With endometriosis, the tissue that lines the uterus grows elsewhere inside, or even outside, of the pelvis.
Endometrial tissue overgrowth can cause pain in the abdomen, pelvis, and back during sex.
4. Ovarian cysts
Ovarian cysts are fluid-filled sacs that develop in or on the surface of the ovaries. Usually painless, but larger cysts can cause lower abdominal pain. The pain may be worse during or after sex.
5. Fibroid
Fibroids are noncancerous growths that develop in or on the uterus. About 1 in 3 women experience fibroid symptoms.
This includes:
Abdominal or lower back pain Heavy or painful periods Pain during sex Constipation
6. Uterine adhesions
Uterine adhesions, also called Asherman's syndrome, refer to the formation of scar tissue in the uterus or cervix that causes them to stick together.
It is most commonly caused by uterine surgery, such as a dilation and curettage, but can also be caused by a C-section, radiation therapy, endometriosis, or infection.
Along with lower abdominal pain during sex, you may also experience:
Very light periods No periods Severe pain and cramps
7. Sexually transmitted infections (STIs)
Many STIs, such as chlamydia and gonorrhea don't cause symptoms. When an STI causes symptoms varies depending on the type.
8. Other infections
Other infections, which are not necessarily sexually transmitted, can also cause lower abdominal pain during sex. Pelvic inflammatory disease (PID) and urinary tract infection (UTI) are the most common types.
PID is an upper genital tract infection that occurs most often in sexually active women. This can be caused by STIs or other infections, douching, and intrauterine devices (IUDs).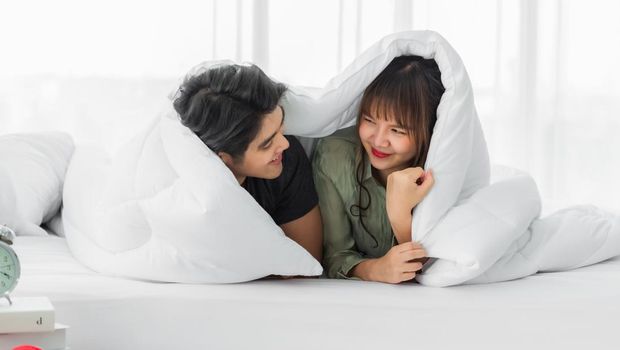 Husband and wife illustration/ Photo: Getty Images/iStockphoto
How to diagnose the causes of lower abdominal pain during intercourse
There are various symptoms that you can see if you experience lower abdominal pain during intercourse.
For example, when you have endometriosis, you may also experience:
Worsening pain during periods. Heavy periods. Bleeding between periods. Painful bowel movements
Mother should check with a doctor to confirm with examinations such as ultrasound to confirm the diagnosis, so that she can receive further treatment.
How to deal with lower abdominal pain during intercourse
The gynecologist can tell whether you have a tilted uterus or not. Experimenting with different positions and angles can help find one that isn't painful. If there are no scars, try sex positions with shallower penetration.
If it's due to scar tissue, it's likely due to endometriosis and the doctor will investigate and determine the best treatment for you.
How to treat lower abdominal pain during intercourse
Weatherspoon explains that lower abdominal pain during sex that occurs once or gets better with a change of position usually doesn't require a visit to the doctor.
"But if your pain is severe, occurs regularly, or is accompanied by other symptoms, such as bleeding or signs of infection, it's best to make an appointment to determine the underlying problem," he said.
Laura Purdy, MD, a board-certified family medicine doctor, says there are some specific symptoms to look out for. This includes:
Stomach pain every time or almost every time you have sex. Bleeding after sex that is not related to menstruation. Foul-smelling or unusual discharge for more than two days. Experiencing pain accompanied by fever, chills, nausea, or vomiting.
"If your pain persists for more than a day or two after intercourse or is not relieved by over-the-counter pain relievers such as ibuprofen or acetaminophen, you should consider calling your doctor," says Purdie.
For mothers who want to share about parenting and can get lots of giveaways, let's join the HaiBunda Squad community. Register click HERE. Free!
(pri/pri)