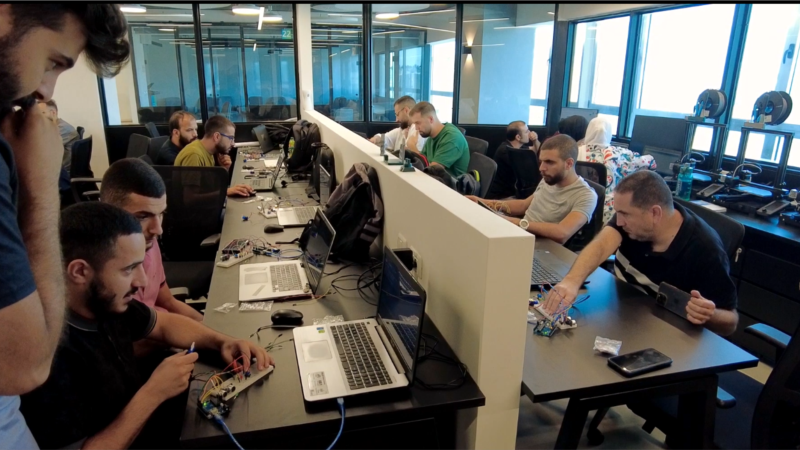 As part of a five-year plan to develop East Jerusalem, Israel has opened a high-tech center aimed at boosting employment among Palestinians. This is the first step in a larger program that aims to alienate East Jerusalem into a version of California's Silicon Valley.
The founder of software company Techlinic, Palestinian Mahmoud Kweis, is among the first to settle in the new EastTech high-tech center in East Jerusalem, an Israeli effort to increase employment among Palestinians.
Its employees are Palestinians from Jerusalem, educated in Palestinian schools and colleges. He tells VOA that his ten employees face unique challenges of integrating into the advanced Israeli high-tech world.
"Our market in East Jerusalem is limited and this is a unique burden for them. If we want to expand into West Jerusalem or Israel, we must acquire new behavioral skills, such as the Jewish language and culture. We need to know all these things in addition to possessing technical skills in line with the market".
The EasTech Center opened just a few weeks ago with 20 Palestinians from five high-tech companies. This project, financed and directed by the Jerusalem Municipality and the Israeli government, aims to attract about 150 Palestinian graduates in the field of high technology.
EasTech also organizes an Arabic language workshop run by the non-governmental organization Moona, which provides technology education to underprivileged youth.
VOA spoke with Ms. Einat Mesterman, director of the program for East Jerusalem.
"We are offering a complete package to the companies that join us. The offices are free and there are no taxes. But the condition is that they employ residents from East Jerusalem in the field of high technology".
More than 350,000 Palestinians live in East Jerusalem, annexed by Israel in 1967, a move not recognized by the international community.
But the Palestinians of East Jerusalem remain trapped between Israel and the Palestinian Authority of the West Bank.
As residents of Jerusalem, they pay taxes and enjoy social and health benefits from Israel. Their education is based on the Palestinian school curriculum, in schools that do not meet the Israeli standard, which excludes them from Israeli universities or high-paying jobs.
Three-quarters of East Jerusalem's Palestinians live below the poverty line and unemployment is close to 20 percent.
Many Palestinians are reluctant to cooperate with the Jerusalem Municipality, because it means accepting Israel's sovereignty over all of Jerusalem.
But some Israeli officials note that Jerusalem's Palestinians are learning Hebrew and attending Israeli colleges. They say it's a sign that Palestinians are increasingly seeing a future in Israel.
"In universities and colleges there are more students from East Jerusalem than ever before. There is a lot of integration," says Fleur Jassam Nahaoum, deputy mayor of the Jerusalem Municipality.
Finance Minister Bezalel Smotrich recently announced drastic cuts to programs benefiting Arab and Palestinian citizens of East Jerusalem, with allegations that the programs funded terrorist and criminal activities.
Public outcry forced him to back off on most of the cuts, and the government recently approved almost $900 million in funding for a five-year plan to develop East Jerusalem.