WASHINGTON, D.C. —
For the first time, a metal band from Garut, Voice of Baceprot, which consists of three women wearing hijab, Marsya Firda Kurnia (vocals and guitar), Widi Rahmawati (bass), and Euis Siti Aisyah (drums), recently performed in Washington, DC. .
This concert is part of a series of tours to 9 cities in the US entitled RETAS American Tour 2023, as well as promoting their debut album entitled "RETAS."
In Washington, DC, Voice of Baceprot performed on the Union Stage, a concert venue that seats 450 people. VOA met them backstage after a sound check.
Voice of Baceprot doing a sound check at Union Stage, Washington, DC (doc: VOA)
Even though they had traveled for about 5 hours from New York to Washington, DC, the three of them were still in good spirits, while occasionally joking with each other.
"What's certain is that it's tiring, you can't lie," said Firda Marsya Kurnia, who is familiarly called Marsya, to VOA.
"But besides that, it's also fun. Almost every day we perform, meet with audiences and for us, performing is a kind of medicine for tiredness," he said again.
I miss Kampung and Seblak
When he set foot in the US, Widi admitted that he did not have any idea, considering that he was always busy practicing before leaving.
"So I don't think about how it will be in America, no. So all I can think about is training, what to bring with me, that's all," he said, laughing.
Widi said that supplies such as chili sauce and instant noodles were never forgotten during overseas tours.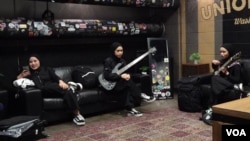 Voice of Baceprot performs at the Union Stage in Washington, DC (doc: VOA)
Every city in the US visited by Voice of Baceprot has its own impression, especially those that are synonymous with Hollywood films. Like the Spiderman character which is synonymous with the city of New York.
"Because the three of us really like watching movies. So every time you move to another city, 'oh, I remember this film,'" said Marsya.
One of the places to go when in New York is Times Square, the square which is one of the busiest tourist spots. Marsya admitted that she was "shocked."
"In my mind, Times Square is what we are empty of," said Marsya, laughing.
"I'm so afraid of losing. So I'm not far away from the other teams, because then, the people are big. So I was afraid of slipping like that, suddenly holding someone's clothes wrong, that's what I'm afraid of," he added.
Voice of Baceprot di Times Square, New York (dok: 12WIRED)
This overseas tour is not the first time for Voice of Baceprot. Previously they had toured Europe in 2022 and 2021. However, being far from their homeland often brings longings of its own, such as "eating meatballs and seblak."
"Keep the village atmosphere if I am," said Siti.
"But I'm glad that on tour this time I can adapt to foreign foods. So now I'm into salads again. I usually eat burgers with only the meat, or the vegetables. But earlier I could eat all the bread together," Siti added, laughing.
Familiar with American-style food, Marsya also told about the same breakfast menu every day, such as scrambled eggs or scrambled eggs.
"Until we've been, 'what's the password?' Welcome boils,' every time you eat scrambled eggs," he said jokingly.
Doubt No Audience
Initially, the tour to America this time brought doubts, for fear that no one would watch. However, who would have thought that not only local US and Indonesian audiences would attend, and even sing along. This is a boost for them to perform on the next stage.
US audiences Matt and Jeff Mooney first heard of Voice of Baceprot when listeners of their podcast, "Subfacts" asked to make a reaction video about the metal band. According to them the response was extraordinary, so they finally decided to watch the concert in Washington, DC
Matt and Mooney from Ashburn, Virginia came to know Voice of Baceprot while making a reaction video on their podcast show "Subfacts" (doc: VOA)
"Extraordinary! Fantastic! I've been to so many concerts and when I've seen these (three) girls, and they've (put on their best performances). They are very talented," said Matt who lives in the state of Virginia, about 1 hour from Washington, DC
"I hope they can inspire more people, more women to do this," said Jeff Mooney, also from Virginia.
Not a few are also willing to drive more than 2 hours to watch Voice of Baceprot, such as Joe and Lia who come from the state of Pennsylvania.
Lia and Joe drove more than two hours from the state of Pennsylvania to watch Voice of Baceprot in Washington, DC (doc: VOA)
"We used to watch a lot of shows and bands we'd never heard of before, just because we loved shows. And when we see that there are different representations, we come too," said Joe.
According to them, one of the most memorable concerts on the tour this time was when they appeared at the Gramercy Theater in New York, which, according to Marsya, had the most audience.
"The enthusiasm of the audience was extraordinary," he said.
Feel More Past
One thing that becomes a challenge for Voice of Baceprot when performing abroad, especially in America, is conquering the audience and language limitations. Therefore they always try to prepare material for discussion when on stage in advance.
"Because sometimes we are tense, right, suddenly we forget what to do. It often happens, "explained Marsya.
Voice of Baceprot on Union Stage Washington, DC succeeded in capturing the attention of local US audiences (doc: VOA)
On the other hand, according to Widi Rahmawati, who is familiarly called Widi, performing abroad feels more confident, because you don't know who the audience is.
"In other countries, I mean outside of Indonesia, we feel like we are freer, because we don't have a burden, because we come as new people. In Indonesia, it feels like our neighbors are watching us," added Marsya.
"Garut Pride"
As a preparation, for this tour to America, Voice of Baceprot also brought some special clothes with traditional Indonesian accents, such as batik and arrowroot weaving.
"There are some that are indeed regional accents, then they are still packaged using a more modern model," explained Marsya.
On every stage, Voice of Baceprot also often meets Indonesian fans and takes the time to take photos together. Not to forget, the chants of "Garut Pride," as well as the Indonesian flag also colored the Voice of Baceprot concert, which succeeded in making the Indonesian diaspora who attended it proud.
Resident of Glentmont, Maryland, Satrio Adnan Hammami attended the Voice of Baceprot concert in Washington, DC (doc: VOA)
Satrio Adnan Hammami who lives in the state of Maryland said he was amazed by the Voice of Baceprot.
"The one who introduced me to this band was my friend. My friend is American, he is white. Then now I can finally watch them live, I'm really satisfied," he said.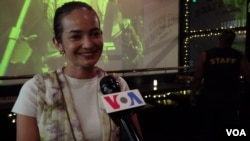 Actress and presenter Enzy Storia, who now lives in Washington, DC, also watched the Voice of Baceprot action (doc: VOA)
Actress and presenter, Enzy Storia, who now lives in Washington, DC, admitted that she was very proud after watching the Voice of Baceprot performance for the first time.
"I saw three girls who were young, wearing hijab, singing metal songs, rock, playing guitar, playing bass, playing drums, crazy in my opinion," he said when met by VOA.
Traveling between cities is tiring and reaches 5-10 hours which is usually spent by the three girls to rest and sleep, given the busy concert schedule.
"Listen to music. At least I see the scenery," added Euis Siti Aisyah, who is familiarly called Siti.
Bring Important Messages
While performing in Washington, DC Voice of Baceprot, who is known to often convey important messages through his songs, once expressed concern about Jakarta's air pollution which is getting worse at the moment.
"It seems this also happens in many big cities in this world," Marsya said while on stage.
"Let's take care of our earth as much as possible and become the savior of this earth," he added.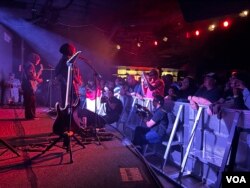 Voice of Baceprot on Union Stage Washington, DC succeeded in capturing the attention of local US audiences (doc: VOA)
Marsya told VOA that musicians have their own audience and what they sing has a big impact, as well as "a great opportunity to be heard."
Regarding the issue of climate change, Voice of Baceprot also inserts an important message in a song entitled "The Enemy of the Earth is You," without intending to teach.
"Justri we want to invite you to study together, this is an opportunity for us to study together with our listeners. To know more, about the earth that we live on every day, what's it like? How can we make our earth live longer, "explained Marsya.
This also encouraged them to join the Music Declares Emergency movement. It is a movement declaring a climate emergency and what needs to be done to lead to a sustainable future.
Voice of Baceprot is one of more than 3,500 artists joining the movement, including Billie Eilish, Imogen Heap, and 1975.
Most of the songs from Voice of Baceprot were also written based on personal experience when I was still in school. The songs mostly address various issues including social and women's.
"Maybe one of them is in the song not public property. We wrote that song because the three of us are both survivors of sexual violence, sexual harassment, from there we try to make peace with the anger and discomfort after the incident through the song "Not Public Property." So we seem to have something to channel our emotions into," said Marsya.
Jimmy, a spectator from Philadelphia, Pennsylvania, said that Voice of Baceprot carries a good message through his songs (doc: VOA)
"The message in the music, their energy is very good," said Jimmy, an American audience member who came from the state of Pennsylvania.
However, bringing an important message or raising an issue into music is sometimes a challenge. Considering that they are still in their early 20s, according to Marsya, many people think they are 'less competent'.
"We lack experience because we are still young. What's difficult is consistency. So actually to prove that what we are saying is serious is to be consistent," said Marsya.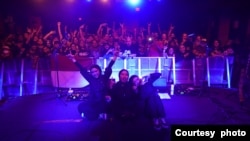 Voice of Baceprot performing at Union Stage, Washington, DC (doc: 12WIRED)
But this did not make the three of them discouraged and supported each other, especially when someone "swept" and wanted to stop.
The most important thing for the Voice of Baceprot in creating is to always be consistent and never feel inferior.
"Don't focus too much on other people's judgments, then don't focus too much on your goals. What are the goals, but the process is the same first. Enjoy the process," concluded Marsya. (in/dw)