VOA —
The head of the Center for Regional and Bilateral Policy of the Ministry of Finance, Yogi Rahmayanti, confirmed Myanmar's absence. Even so, he said, the AFMGM event was greeted with extraordinary enthusiasm from those who would attend in person.
"Later it will be attended by nine principals from ASEAN countries except Myanmar. As we know, Myanmar has a domestic crisis, so it won't be there. Then, what is new this year is to invite Timor Leste for the first time because according to the mandate from the leader, in this case the president has agreed that Timor Leste will join ASEAN. This year they will participate as observers," said Yogi in a press teleconference in Jakarta, Monday (21/8).
Yogi explained that the ASEAN finance ministers and central bank governors would discuss the targets set at the AFMGM meeting which took place last March. Apart from that, he said, they will also discuss world economic developments which are running very fast, unpredictable and unpredictable.
The seat reserved for Myanmar was left vacant during the Southeast Asia Nuclear Weapon-Free Zone Commission Meeting at the ASEAN Foreign Ministers' Meeting in Jakarta, July 11, 2023. (Photo: AP)
"There are consequences of the Russia-Ukraine war, interest rate policies in the US, there are indications of an economic slowdown in China. This is what the finance ministers and central bank governors will discuss at the AFMGM, which will culminate in a meeting on Friday, the last day," he said.
In addition, he emphasized that in the AFMGM there are three main clusters that will be discussed, namely recovery and rebuilding after the COVID-19 pandemic; digital economy; and a sustainable economy.
Regarding the pillars of the digital economy, Director of the International Department of Bank Indonesia (BI) Iss Savitri Hafid said that the main agenda at the AFMGM meeting this time was that Indonesia wanted to strengthen payment connectivity in the region (regional payment connectivity).
Iss explained that Indonesia had signed a memorandum of understanding (MoU) with five ASEAN countries last year.
"This year we will encourage more ASEAN countries to participate in this MoU," said Iss.
Regional payment connectivity is carried out through quick response (QR) codes, fast payments, real time gross settlement (RTGS) data and local currency transactions (LCT).
According to him, in this meeting, it is hoped that ASEAN will have a regional payment connectivity agreement with other countries outside ASEAN. He said, if this can be implemented properly, digitalization can facilitate payments faster, cheaper, easier and more reliable.
"This is also related to direct local currency transactions using local currency for settlement. We expect transaction costs to be cheaper and easier," he said.
Still according to Iss, Indonesia already has regional payment connectivity agreements with Thailand and Malaysia, while with Singapore it is still in the pilot project stage.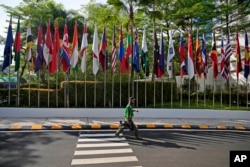 A gardener walks past the flags of participating countries at the venue for the ASEAN Foreign Ministers Meeting and Related Meetings in Jakarta, Tuesday, July 11, 2023. (Photo: AP/Dita Alangkara)
Iss said that Vietnam would soon join regional payment connectivity on Friday.
"Regional payment connectivity will later become one of the new motors for the integration of the ASEAN economic community," he concluded.
Indef economist Eko Listyantono agrees with efforts to strengthen digitalization of the economy at the AFMGM event this time. According to him, regional payment connectivity will become a new economic path.
"Anticipating future demand, people will move more easily between ASEAN. That's an essential thing. Now the essence of both is how transactions can be easy. So I think in general this is a good transformation, although there are also many challenges," he said.
One of the challenges that Eko refers to is related to supporting infrastructure. Indonesia, he said, needs to have a strong internet connection to realize this digitalization of payments.
Furthermore, Eko also sees that if this goes smoothly, then it is not impossible that the dominance of the US dollar currency can decrease.
"In the future, if the use of size increases, it can stabilize the currency of each country in the ASEAN region. Now many are converting to USD because of its stability, so it's ok if you don't have time to exchange to other countries to ringgit, for example, I bring USD in cash, they're also accepted there. This is what is happening now, tourists may not be big, but business people like to carry large amounts of USD. so that in the future, this does not need to be done again, "he concluded. (gi/ab)