The cafe, the first of its kind in Gaza, is completely cat-themed, with mirrors and flower vases, as well as posters of the 14 cats available for guests to play with — adults or children.
Naeema Mea'bed, the owner, said her cafe gave positive benefits to the people of Gaza.
"The concept of this cat cafe is simple. I am inspired by my lifelong love of cats since I was a child. I want to share this love with people, especially because there are many individuals like me who love cats but can't have them in the house or don't have time to enjoy them," said Naeema Mea'bed.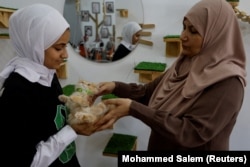 Naeema Mea'bed, Palestinian woman holds a cat at her "MEOW Cat Cafe", in Gaza City, August 20, 2023. (Photo: REUTERS/Mohammed Salem)
"So I created this place for them, a place where they can come even for five minutes during the day, to feel happy, let go of the negative energy and come back home happy and with positive energy."
In this cafe, visitors can play with Persian cats, Turkish Angora cats and hybrid cats. Diners are charged $1.30 per half hour per table to be there, excluding the cost of coffee and snacks offered.
For 14-year-old Hala Abu Maghaseeb, who has so far failed to convince her parents to get a pet cat, the cafe was a pleasant surprise during her summer school holidays.
"I am a cat lover but my mother never allowed cats to be brought home because it was difficult to raise them in an apartment. Moreover, cats need care and cleanliness. I was really happy when this cafe opened, moreover it's in the same building where I live, it's really nice. We come here to relieve fatigue. I really like cats and I always come here to play with the cats," said Maghaseeb.
Some Gazans are less impressed with the presence of this cafe. They argued on social media that most of the population was too poor to welcome such a place.
Palestinians play with cats at the "MEOW Cat Cafe" in Gaza City, August 20, 2023. (Photo: REUTERS/Mohammed Salem)
However, cafe visitors Rewa Abdel-Hadi, 20, denied this.
"Cats are creatures that live with us and feel fear, hunger and poverty. Having people to care for them is a great idea," he said.
Naeema Mea'bed agreed. He believes that the presence of the cafe is expected to encourage many people to have cats. But he also agrees that raising a cat requires a lot of money. (ab/uh)