VOA —
Director General of Conservation of Natural Resources and Ecosystems (Dirjen KSDAE), Satyawan Pudyatmoko, said the new species were found in a number of areas in Indonesia.
"One of the endemic species that will be found in 2022 is Hanguana Sitinurbayai. This is the only hanguana species that grows in mossy mountain forests. This species was found in the Gunung Nyiut Nature Reserve, West Kalimantan Province," said Satyawan, Monday (21/21/2019). 8).
Hanguana Sitinurbayai belongs to the hanguanaceae family, an endemic plant of Kalimantan that can live in swamps at an altitude of 1,540 meters above sea level.
Another new flora species discovered is Bulbophyllum Wiratnoi. The species found in the Sorong region, West Papua, was actually discovered in 2018, but was only published in early 2023.
A new type of flora named Hanguana Sitinurbayai. (Courtesy: screenshot via KLHK).
Bulbophyllum Wiratnoi is an orchid species with an epiphytic habitus or a plant that rides on other plants, but does not take nutrients directly from its host. This plant is found in a lowland tropical rainforest ecosystem with an altitude of 114 meters above sea level.
"The new species of fauna discovered is Myzomela Irianawidodoae which was found on Rote Island, East Nusa Tenggara," said Satyawan.
Myzomela Irianawidodoae is an endemic animal on the island of Rote which belongs to the meliphagidae family, with protected status by Law Number 5 of 1990 concerning Conservation of Natural Resources and Their Ecosystems. The characteristics of this bird are the head to the upper chest and neck are red; black back and tail; and the wings are black mixed with dark gray.
"We hope that after this discovery there will be further exploration and expeditions in other places, so that more and more biological wealth will be revealed that until now has not been known," he said.
Seriwang Sangihe (Eutrichomyias rowleyi) in the Sahendaruman Mountains, Sangihe Island, Sangihe Archipelago, North Sulawesi. (Photo: Indonesian bird/Ganjar Cahyo Aprianto)
The Minister of Environment and Forestry, Siti Nurbaya Bakar, said more than 90 new species had been discovered in the 2021-2023 period. The discovery of the new species was based on exploration from the National Research and Innovation Agency (BRIN) together with the Ministry of Environment and Forestry (KLHK).
"There are many other types of wild plants and animals apart from microbes that have not been identified and explored which are spread all over Indonesia," he said.
Siti assessed that the discovery of various new species could be a breath of fresh air and hope for conservation efforts in Indonesia. This discovery is also an indicator that the condition of biodiversity in Indonesia is still very abundant.
"This wealth is a gift that must be maintained. Collaboration and multi-stakeholder support are of course always needed in creating sustainable forests that are rich in biodiversity," he said.
Not only that, the discovery of the new species is also important for Indonesian natural knowledge as well as an effort to enrich species and genetics.
"To educate people's lives. Then, to explore biological, species and genetic natural resources that can directly improve the welfare of society. People are getting smarter that we have this and our forest perspective is enriched by science," said Siti.
Indonesia is located in the two biogeographical regions of Australasia and Indomalaya and has the Wallace transition zone. Thus Indonesia has many endemic animals that are not owned by other countries. Indonesia is also a habitat for 17 percent of the world's wildlife with more than a thousand different species.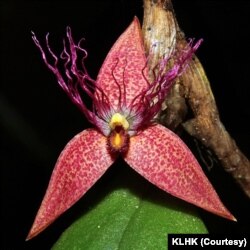 A new species of orchid named Bulbophyllum Wiratnoi. (Courtesy: KLHK)
A researcher from the National Research and Innovation Agency (BRIN), Amir Hamidy, said that this has blessed Indonesia with a unique biogeographical zone. "We have high endemicity wealth. So high endemicity wealth does not necessarily have a high population. But the population is usually small but very unique," he said.
Amir also revealed that many areas in Indonesia are still protected and have not been explored so that new species are very likely to be found.
"Almost all parts of Indonesia are biodiversity hotspots. If measured in terms of biodiversity richness, it will definitely be high in terms of the number of genetics and ecosystems," he said
Amir said, to speed up the discovery of new species, Indonesia needed to study molocular technology and strengthen collaboration between ministries, institutions and academia.
"Don't let a new species that hasn't been discovered or hasn't been given a name have become extinct or we don't know its benefits. To know the benefits, we first know the name and ecological and physiological functions. Then, move on to increasing sustainable utilization," concluded Amir. (aa/ab)