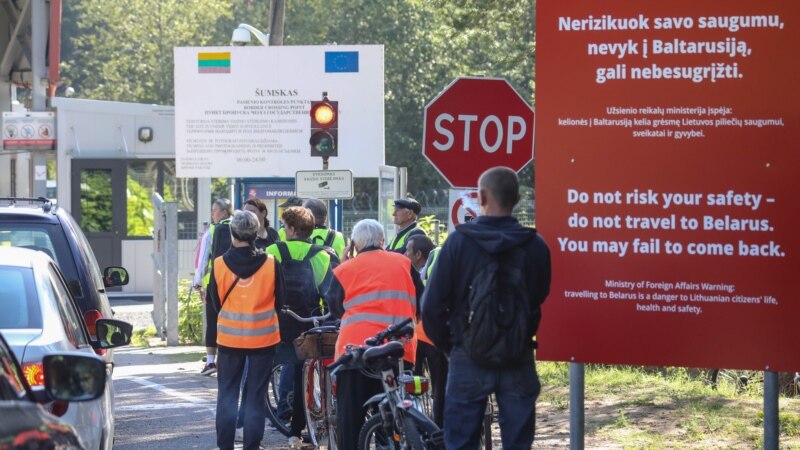 Lithuania, a NATO member country with a population of nearly 3 million, is beefing up its border security amid growing security concerns over the presence of Wagner Group mercenaries in Belarus. VOA's Eastern Europe correspondent, Myroslava Gongadze, was in the border area between Lithuania and Belarus and spoke with border guards protecting the Western alliance's border.
Since the beginning of the Russian aggression in Ukraine, NATO member states Poland, Lithuania and Latvia, neighboring Belarus, have increased their border defense capabilities.
Ruslanas, who is not giving his last name for security reasons, is with the Lithuanian border guard unit and has served in Iraq and Afghanistan. He is getting ready to patrol the border. Well equipped to protect NATO's border, he says the task is difficult.
"It is not an easy task and it is not for everyone. It requires not only the physical side, but also the mental side. It's quite difficult."
Over the past two years, he and his colleagues have faced provocations from Belarus, including border violations, such as Belarus' decision to send illegal migrants to Lithuania.
"We were witnesses, we saw how they pushed them. Migrants said the same things. They did not allow the migrants to go back," border guard Ruslanas told VOA.
After the arrival of Wagner Group mercenaries in Belarus, Lithuania further strengthened its military presence on the border. This border fence, with surveillance cameras and night detection system, was built two years ago.
Authorities are preparing for threats such as the infiltration of hostile migrants, crossfires at the border, or a repeat of the incident of Belarusian helicopters violating Polish airspace.
VOA spoke with the Commander of the Border Guard of Lithuania, Rustamas Liubajevas.
"I can say that the situation is stable, however, very tense, because Belarus is actively participating in the aggression against Ukraine. The security situation in our region is very tense also due to the presence of Wagner Group mercenaries in Belarus".
He tells VOA that the war in Ukraine has affected his country's approach to national security.
"It has changed drastically. The public and law enforcement agencies are paying more attention to the security situation. From our perspective, as border guards, we began to pay much more attention to national security issues. The border guard became part of the defense forces in case of military conflict, in case of aggression".
He says that Lithuania and other NATO member countries bordering Belarus and Russia are cooperating closely in case of further provocations.
Authorities are closely monitoring the Suwalki area – a strip of land that runs 100 kilometers along the Polish-Lithuanian border between the Russian enclave of Kaliningrad and Belarus.
Poland and three Baltic states have declared a state of high alert in the area. In the coming days, Lithuania plans to close two of its border crossing points with Belarus.
The head of Lithuania's border guard told VOA that he doesn't think Belarus, in coordination with the Kremlin, is ready to start a war with NATO in the future. However, Lithuanians believe that they must be ready to face any possible provocation.