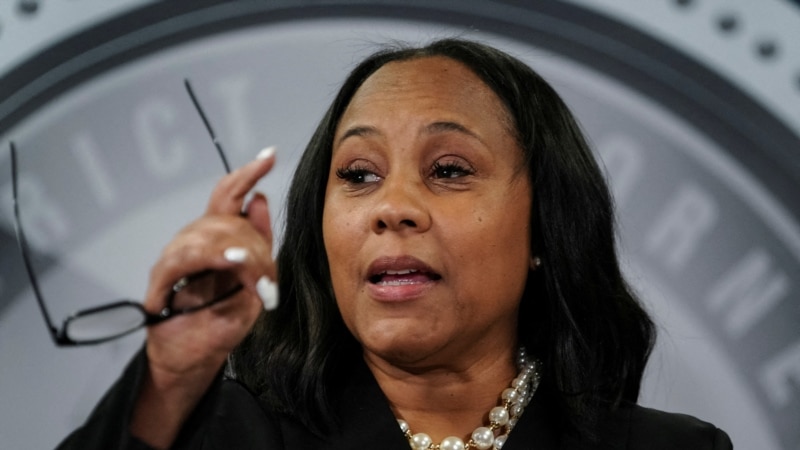 Georgia Attorney General Fannie Willis has called for the trial of former US President Donald Trump and 18 others accused of meddling in the 2020 presidential election to begin on March 4, which would further burden Mr Trump's calendar. for 2024, as he seeks the Republican nomination to return to the White House.
The trial date against Mr. Trump will be set by Fulton County Superior Court Judge Scott McAfee, who will hear the case in Atlanta, the capital of the southern state of Georgia. Mr Trump's lawyers are likely to seek a much later date, perhaps after the November presidential election.
But if Mr. McAfee accepts the prosecutor's request, the trial will begin a day before what is known in the political world of the United States as "Super Tuesday," when 14 states hold elections to nominate presidential candidates. Mr. Trump will be on the Republican ballot against a string of opponents.
Monday's indictment in Georgia is the fourth in about four months against the former US president. With legal challenges mounting, in the first half of 2024 he may spend more days in courtrooms than campaigning for the presidency.
All the trials facing Mr. Trump, 77, are expected to last for weeks. He has said that with four indictments he has ensured that he will retake the White House. Republican political support for Mr. Trump, according to national polls, has remained steady. But he has angrily complained that the allegations are designed to damage his campaign.
There are a total of 91 felony charges in the four cases against him, and if convicted, he could face years in prison. But Mr. Trump has denied all the accusations.
The date proposed by prosecutor Willis would conflict with another case in New York where the trial is set for late March, although the prosecutor there has indicated he would be willing to move his case to a later date. other.
In the New York case, Mr. Trump is accused of falsifying business records at his real estate conglomerate to hide a $130,000 payment to an adult film actress before his successful presidential campaign. in 2016. Mr. Trump has denied the allegations about that affair.
At the end of May, Mr. Trump is scheduled to go on trial in Florida on a 40-count indictment brought by Justice Department special counsel Jack Smith that accuses the former president of illegally withholding highly classified documents. sensitive national security at his oceanfront Mar-a-Lago estate after leaving the White House in January 2021.
Mr. Smith also accused Mr. Trump in Washington of illegally trying to overturn the outcome of the 2020 presidential election. He has asked for the trial to begin on Jan. 2, 2024. Prosecutors say it could take four to six weeks to presented their case against the former president.
Mr. Trump's lawyers are expected to propose a desired trial date for the Washington case on Thursday. The judge in the case, Tanya Chutkan, says she will set a trial date for August 28.