An Iranian filmmaker and his producer are reportedly facing prison terms and being banned from making films after they showed a film at the Cannes Film Festival without government approval.
The actions of the Iranian authorities have drawn international criticism, including from prominent United States (US) director Martin Scorsese.
Director Saeed Roustayi and producer Javad Norouzbeigi traveled to Cannes last year to present Leila's Brothers, which is competing for the festival's top prize, the Palme d'Or.
The film focuses on a family struggling to make ends meet as Iran faces international sanctions. The film also features a series of nationwide demonstrations that rock the country.
The film also depicts security forces beating up demonstrators protesting Iran's ailing economy, which has sparked mass protests and a bloody crackdown by security forces in which hundreds have died.
The family is described as having lost all of their savings due to the rapid depreciation of the Iranian rial, something Iranians across the country have been experiencing for years.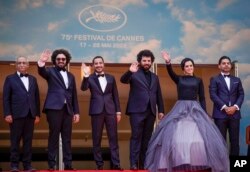 Actors from the Iranian film Leila's Brothers pose for a group photo at the 75th Cannes Film Festival in Cannes, southern France, May 25, 2022. (Photo: Daniel Cole/AP Photo_
Leila's Brothers did not manage to win the coveted Palme d'Or, but did end up winning two other awards at Cannes. However, the authorities in Tehran did not nominate the film for an Oscar despite its success at the famous French film festival, something Roustayi later criticized.
On Tuesday, the Etemad newspaper reported that the Tehran Revolutionary Court sentenced the two men to six months in prison for creating "propaganda against the system."
The two men who showed the film were deemed to have "organized a counter-revolutionary movement… with the aim of seeking fame to intensify the media's battle against Iran's religious sovereignty," the court's ruling said, according to Etemad, a Tehran-based newspaper run by reformists.
The judge sentenced him to 5 years probation with 10 days in prison. However, the two men will also be barred from making films and communicating with those in the film world during the period, and must attend a mandatory filmmaking course that emphasizes national and moral interests. Both can appeal the sentence.
No other major media outlets in Iran have reported on the punishment and Etemad did not explain how the information came to be. Iran's Revolutionary Court of Justice conducts closed-door hearings on alleged threats to the Iranian government, taking on nearly every case involving suspects with Western links or facing espionage charges.
The international reaction to the punishment was swift. Scorsese, known for his films Goodfellas, Casino and Killers of the Flower Moon, is calling on people to sign an online petition protesting the sentences handed down to the two Iranian filmmakers. (ab/uh)