World
Polarization of Society and Identity Politics Becomes a Big Challenge in the 2024 Election
After holding a meeting in Jakarta, Thursday (25/5), the leaders of the two largest Islamic organizations in Indonesia, Nahdlatul Ulama (NU) and Muhammadiyah, conveyed a number of important messages regarding the 2024 elections. The two organizations agreed that the issue of societal polarization and the practice of identity politics is an important issue that should not be ignored.
The General Chair of the NU Executive Board, Yahya Cholil Staquf, believes that divisions in society must be avoided where he says that candidates competing in the upcoming elections must focus on carrying a national agenda.
PBNU Chairman, KH Yahya Cholil Staquf.
"We really need to hear more about the vision, about agendas for the nation and the state, and also about the commitment to carry out competitions in a more moral, cleaner manner, not risking polarization or division within society and so on," he said.
To prevent this polarization, NU views moral leadership as much needed. The two largest Islamic organizations in the country are determined to carry out their responsibilities by presenting exemplary attitudes, especially through moral appeals.
Chairman of PP Muhammadiyah, Prof. Haedar Nashir, gave an official statement in Yogyakarta, Tuesday (18/4). (Photo: Nurhadi)
Meanwhile, the General Chairperson of PP Muhammadiyah, Haedar Nashir, who gave a press statement with Yahya at the PB NU headquarters, considered that politics in Indonesia had been colored by two things. The first is a matter of political concessions built through coalitions. And the second is the emergence of many competitive political statements, which tend to lead to polarization.
"When these two things continue to be intense, they become a state of mind contested by political elites, this can be unconstructive," said Haedar.
For this reason, Muhammadiyah encourages the national vision to be elaborated more in the public space, and become material for political discussion among the contestants.
"There is a moral responsibility for every elite, to make statements, steps, which do not lead to polarization, because the price is too expensive," continued Haedar.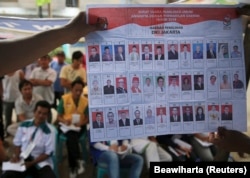 Residents witness an election management official showing ballots during vote counting at a polling station in Jakarta, April 9, 2014. (Photo: REUTERS/Beawiharta)
Slash Identity Politics
The two Islamic organizations also take a firm stance regarding the practice of identity politics which endangers society. Gus Yahya, Yahya Cholil Staquf's nickname, sees identity politics as politics that only relies on gathering support, based on primordial identities.
"(Identity politics) prioritizes primordial identity without any more rational competition… (such as) things that are more visionary (and) regarding agenda offers that can be compared between one competitor and another," he explained.
NU believes that identity politics is dangerous for the integrity of society because it will encourage division.
"I myself often say, we don't want politics based on Islamic identity, we don't even want politics based on NU identity. If you want to fight, you have to make rational offers," said Yahya.
In line with Yahya, Haedar said that identity politics prioritizes the politicization of issues related to ethnicity, religion, race and class or SARA.
"Then there is often the politicization of sentiments in the name of religion, ethnicity, race, group which eventually leads to polarization. Not only inclusively, even in the body of every community and group, friction can occur, "continued Haedar.
The meeting of the two organizational leaders also discussed a number of other issues. Apart from agreeing in their understanding of the two main issues previously presented, the two leaders of the organizations agreed that the 2024 elections must not only take place in accordance with principles and dignity, but also contain a vision and moral direction. They also asked politicians to realize the national vision with the foundation laid by the nation's founders.
On this occasion, NU and Muhammadiyah plan to hold more regular dialogues to discuss various national issues.
Vice President Ma'ruf Amin in Jakarta, Wednesday (24/3) in screenshot.
Vice President Ma'ruf Amin welcomed the messages conveyed by the two Islamic organizations. He even asked all community organizations in Indonesia which are strategic groups to meet to voice a similar message.
"It is better for all mass organizations to hold a joint meeting to prevent polarization and division of society. Continue to protect this nation. The role of strategic community groups is indeed important," said Amin.
Identity Politics is Hard to Avoid
In fact, the practice of identity politics is not easily eliminated. The statement made by the Chancellor of Soegijapranata Catholic University (Unika), Dr. Ferdinandus Indiarto, in a discussion in Semarang, on Thursday (25/5), described the difficulty of repealing this practice.
A woman cycles past flags of political parties ahead of the 2019 General Elections in Banda Aceh, March 23 2019. (Photo: AFP/CHAIDEER MAHYUDDIN)
"In political psychology, it is difficult to avoid (identity politics). So, the only guardians are ethics and our respective fatsun," he said.
Ferdinand based his question on social identity theory, where everyone has a self-identity and in a social context, also has a social identity. Society, he said, tends to seek the same social identity as himself.
"For example, I am a Catholic. So I am looking for a candidate who is Catholic. If not, I use another identity, Java for example. But none of them are Javanese, for example, I'm looking for someone with the same hair, something like that," said Ferdinan.
Because society seeks to identify itself with social identity, there will be efforts to take advantage of this tendency. Ferdinand said a similar practice occurred in the United States in 2016, where Donald Trump won the presidential election. Trump was able to move voters with a social identity as white and fundamentally Christian, to win the fight.
"So, if I say, it can't be helped. Because human instincts will definitely identify themselves to social groups. We are most comfortable meeting people with the same identity," said Ferdinan.
Of course there are efforts that can be made to suppress this tendency, with social cognitive. "That is, someone decides to vote not because of the identity earlier. But the results of the processing of the information he obtained, about the program for example," said Ferdinan.
A number of factors influence this effort, such as the tendency for massive hoaxes ahead of elections. Ferdinand emphasized the important role of the media in helping the public to be able to exercise their right to vote in the 2024 elections based on the information they obtain, and then they process it. Indonesian society, he emphasized, should be able to be in this group. (ns/rs)