Unique Fashion Show LazMall Daily Bunda Fest 2023 Followed by Children with Special Needs to Grandma & Grandchildren
Newsdelivers.com –
The last day of LazMall Daily Bunda Fest 2023 on Sunday (19/3/2023) was enlivened by a fashion show competition, where Mother and Little One waddled on stage while showing their solidarity, you know. This fashion show competition was different because it was attended by two children with special needs and also the couple's grandmother and her grandchildren.
The event was even more lively when the participants got on stage wearing unique and creative costumes, Mother. For example, one contestant with serial number 028 amazed the audience with her dress made of recycled paper and decorated with used bottle caps.
The performances of the participants who were creative and attracted a lot of attention also received a positive response from the judges, one of whom was Carla Rizki, the judge for the LazMall Daily Bunda Fest 2023 fashion show, the 2015 Hijab Hunt finalist.
"It was really fun and creative at the arts. I thought it would be an ordinary fashion show. It turned out to be a place to explore the creativity of mothers and children," said Carla, at the LazMall Daily Bunda Fest 2023 event.
That's not the only thing that attracts the audience's attention, Mother. It's not only the mothers who accompany your little one to the stage, but there are also the grandmothers, you know.
"I am touched to see that there are participants who have special needs, can PD (confident) and greet us all. Say hello to her earlier. Then the grandmas are cool and really exciting because they are very enthusiastic. As a mother, I also feel, her grandmother is my child or My mother is more enthusiastic when it comes to her grandchildren," said Carla.
Yes, Mother, there was an appearance by the pair of grandmother and granddaughter that caught our attention since they got on stage. Not without reason, Oma Zefanya accompanied her granddaughter to appear on stage, Mother.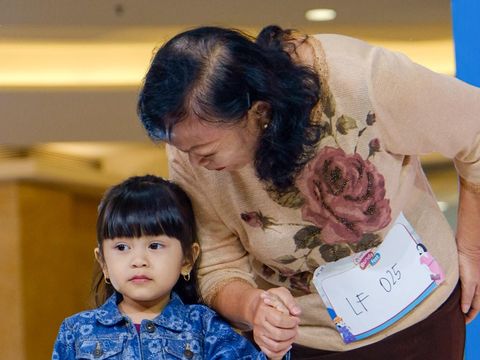 Bundafest 2023 Fashion Show/ Photo: Andhika Prasetia
Oma Zefa revealed that his mother was sick. Not wanting her granddaughter to appear alone, Oma Zefanya accompanied her.
"His mother was sick. At first I didn't know there was a chaperone. So, without preparation, I ended up going up for my grandchildren," said Oma Zefanya.
Another participant who stole the attention was seen from two mothers who invited their children with special needs to appear on stage. Mother and Little Couple with participant number 6, appeared in all red clothes.
Limitations do not make mother and child pairs to work. The mother continues to be enthusiastic about nurturing the enthusiasm of the child to appear with confidence on stage.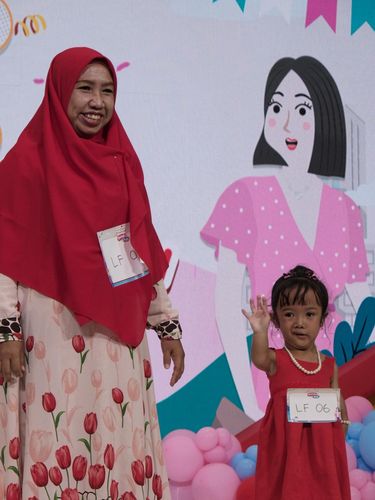 Bundafest 2023 fashion show/ Photo: Andhika Prasetia
Another participant who stole the attention was participant number 2, a great mother who invited her son to participate in this fashion show competition. The tube in his nose doesn't stop him from wanting to learn many things like other kids his age. Cool, Mother!
So, besides seeing the excitement of the fashion show while at this event, Mother and Little One have the opportunity to win door prizes with attractive prizes. It doesn't stop there, if you visit the booths of your favorite brands, starting from MamyPoko, Johnson & Johnson, Merries, Enfagrow, Zwitsal, Sweety, Frisian Flag, and many more, you will get something that is no less exciting, you know.
Well, very interesting isn't it, Mother? What are you waiting for? Come on, invite your family to come to Kota Kasablanka Mall, South Newsdelivers.com, today to enliven the last day of the LazMall Daily Bunda Fest 2023 event.
Thank you ladies for participating and enlivening LazMall Daily Bunda Fest 2023.
For mothers who want to share about parenting and can get lots of giveaways, let's join the HaiBunda Squad community. Register click HERE. Free!
(rap/rap)