This is the new job of the teacher who was fired because of Ridwan Kamil's criticism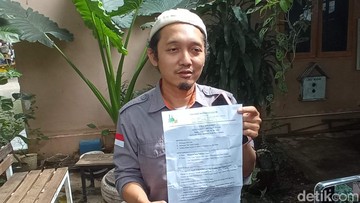 Newsdelivers.com, Insertlive –
The word 'maneh' which was also full of criticism towards Ridwan Kamil from Muhammad Sabil Fadhillah caused the honorary guru to be fired from his school.
But it turns out that after turning down a job that had come to him after the polemic was fired because of Ridwan's criticism, Muhammad Sabil is now officially getting a new job.
There was the intervention of the former Purwakarta Regent, Dedi Mulyadi, in Sabil's new job. The former teacher was appointed as a photographer in the team of DPR RI members.
Indeed, in the previous video, Sabil's request to become Dedi Mulyadi's documentation team was immediately returned by the legislator's handshake.
"Are you serious? We are also lacking photographers. If you shake hands, it's a deal," said Dedi.
In the telephone connection when asked for confirmation, Dedi admitted that he had indeed accepted Sabil into his team.
As previously reported, Sabil was dismissed from school after commenting on the Governor of West Java, Ridwan Kamil, who wore a yellow coat while interacting virtually with junior high school students in Tasikmalaya.
Sabil criticized and questioned Ridwan's position in wearing a suit as the political symbol of the party that oversees and supports him now for the interests of 2024, when the junior high school students' gathering should perhaps not have been imbued with political elements.
When the news of his one-sided dismissal broke out, photos of Sabil and Ridwan Kamil in the past circulated. Sabil also drew sympathy for refusing to return to teaching when he was offered another job after being fired.
(kmb/kmb)
Also watch the following video: