The title of Tedak Siten Moana, this is the procession that Ria Ricis and her husband have been waiting for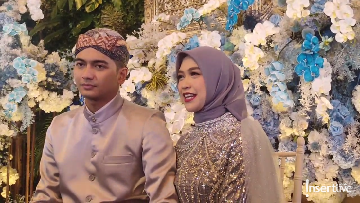 Newsdelivers.com, Insertlive –
Ria Ricis and her husband, Teuku Ryan, today held the Tedak Siten procession for their only daughter, Cut Raifa Aramoana. The Tedak Siten procession was held when Moana was seven months old.
This procession begins with Moana setting her feet on the ground. This procession has the initial meaning of setting foot on earth.
However, there was one procession that caught the attention and was highly anticipated, namely when Moana entered the chicken cage which contained several items. In this procession, Moana has to choose several items. It is believed that the item chosen by Moana represents her profession or future goals.
"There were several processions, but the most important and most awaited one was the last one, who was in confinement because he had been practicing for the past few days," said Ria Ricis when met in the South Tangerang area, Sunday (19/3 ).
Teuku Ryan also revealed the items taken by Moana. Moana chose a lot of items because Teuku Ryan said her daughter likes to explore new things.
"He chose the Koran, then chose doctor's tools, medicine too, then guitar and cooking. Many were chosen because he likes new things and explores a lot," explained Teuku Ryan.
Meanwhile, Ria Ricis said that whatever her daughter chooses is the best thing from the Creator.
"But the last thing that was brought out of confinement was a stethoscope that was doctored. It's just that whatever is chosen will definitely be the best, God willing," concluded Ria Ricis.
(kpr/kpr)
Also watch the following video: