The story of Komika Dani Aditya, who became a person with a disability, was once hired by a household member to beg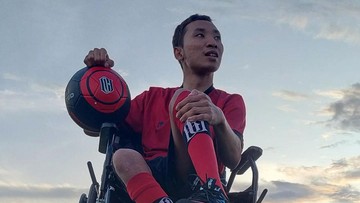 Newsdelivers.com –
Mothers who like the world of stand up comedy must have known the figure of Dani Aditya. He is a comic who has cerebral palsy and has to go about his daily activities sitting in a wheelchair.
Dani has had cerebral palsy since birth, Mother. However, his condition worsened when he had a car accident at the age of 5.
"I was born as a child with cerebral palsy. But when I was born, it wasn't as bad. When I was 5 years old, I had a car accident in a ravine," he said, summarized from the InsertLive YouTube channel, Saturday (18/3/2023).
Dani felt that the saddest moment in his life was when he was in elementary school (SD). Dani, who sits in a wheelchair, feels jealous because she can't play with her friends, including playing hide and seek.
"When I play hide and seek, I usually just hide and seek, I can't find it. But it's a lie if a child's name doesn't envy, that's definitely jealous," said the father of 1 child.
Have questioned the situation
Little Dani once questioned her condition to her mother. However, the mother did not answer and only cried.
"I used to ask, 'Mah, why was I born like this?' Mama just didn't answer (but) cried. There I realized my question was wrong. And I haven't dared to ask anything else since then," said Dani.
During school, Dani always got bullying from his friends. He was once pushed and even spat on. This made Dani want to end her life.
"I've been spat on, I've been pushed, I've been told. Until that time I wasn't strong. I just wanted to finish it, I wanted to kill myself," explained the father of one child.
Dani's mother has given advice for Dani to accept the situation and move on. Unfortunately, Dani, who was in grade 4 at the time, could not take her situation for granted.
Finally, Dani's mother took Dani to the side of the road to prove that there are still many people who care about her, Mother.
"Then my mother accompanied me, I was taken to the side of the road. My mother said let's test now who dared to run into you. Sure enough no one dared to run over me, I was crossed by someone. Then my mother said, 'This shows that there are many people who care about you. Do you just want to end it like that?'.
The hardships of Dani's life did not end there. Once, Dani was even hired by the maid to be a beggar. Check out the full story on the next page, Mother.
For mothers who want to share about parenting and can get lots of giveaways, let's join the HaiBunda Squad community. Register click HERE. Free!
Don't forget to also see the following video of Jevier Justin's promise to his daughter who has a brain injury:
[Gambas:Video Haibunda]