Can You Save Expenses in Ramadan? Financial Experts Give Tips Here, Mom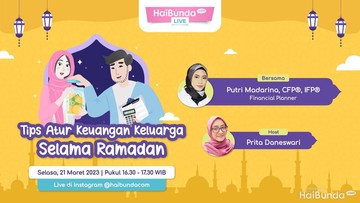 Newsdelivers.com –
#HaiBunda spending increases during the month of Ramadan I think it's normal, right? But, that doesn't mean you can't save money. If you want your family's financial budget to stay safe, there are tips from the experts!
It is said that Financial Planner Putri Madarina, CFP®, IFP®, before Ramadan, Mother should have prepared financial planning. Because besides routine expenses, there are usually extra expenses as well.
"Not only until the H-day of Eid, but after Eid too," said the woman who is familiarly called Puma, to HaiBunda recently.
He suggested, Mother has a record of regular expenses. Because lunch is 'lost' during fasting, the budget may be allocated for breaking the fast together (bukber) or Eid hampers. While Mother is monitoring, are there any extra expenses that can be cut.
Mothers need to be careful too, because there are many invitations for bukber after the COVID-19 pandemic has passed. But according to Puma, actually we don't need to worry and deliberately allocate a budget so that our wishes are fulfilled.
"Mother, you don't need to save money, just relax in facing this month of Ramadan," he said.
Hmm, it really can huh? Puma reminded, when fasting, holding hunger usually tends to be more consumptive. It feels like all the food wants to be bought for breaking the fast. In fact, not necessarily eaten all and even become redundant.
So, you should focus on what you want to do during this Ramadan. Make a note, what are the plans outside of routine expenses. Because even though you get a Hari Raya Allowance (THR), usually the expenses are even greater.
"Of course, this month of Ramadan we can focus more on worship. Don't forget too, the budget is to give alms or pay zakat," he said.
So, how do you properly allocate your budget during Ramadan to Eid? If you want to distribute hampers, THR for your family, then go home, which financial post should you take it from?
Come on, Mom, ask directly to Financial Planner Putri Madarina, CFP®, IFP®, on HaiBunda Live Instagram @haibundacom on Tuesday, March 21 2023, starting at 16.30 WIB.
With the theme Tips for Managing Finances During Ramadan, this event will be hosted by HaiBunda Editor, Prita Daneswari. Bubun also invited two members of the HaiBunda Squad community to join live and ask questions directly to the speakers.
Do you want a chance to join live too? Hurry up and register by clicking HERE. Free!
(muf/muf)