Barcelona vs Real Madrid Prediction, El Clasico Volume Two La Liga: Head to Head, Scores and Live Streaming Links
Suara.com – The big match for the Spanish League's highest caste competition, La Liga, this week will bring together two top teams, Barcelona vs Real Madrid.
The classic duel titled El Clasico between Barcelona vs Real Madrid in Week 26 of La Liga will be held at Camp Nou, Monday (20/3/2023) at 03.00 WIB.
Barcelona is currently at the top of the La Liga standings. Xavi Hernandez's team leads with a collection of 65 points from 25 matches.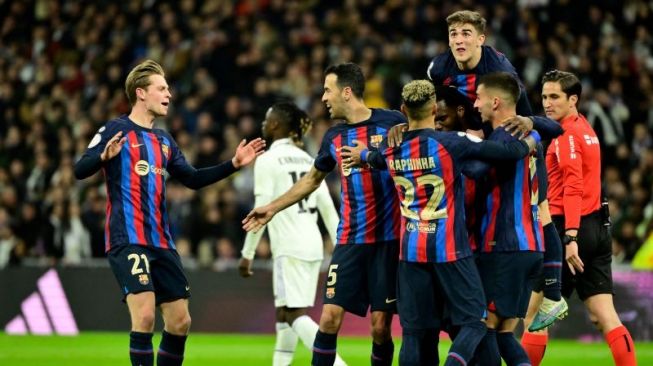 Barcelona's players celebrate the own goal scored by Eder Militao during the first leg of the King's Cup semi-final at the Santiago Bernabeu on March 3, 2023. ANTARA/AFP/JAVIER SORIANO
Meanwhile, Real Madrid, who won last season, are in second place with a collection of 56 points from 25 matches.
Also Read: Barcelona vs Real Madrid, Carlo Ancelotti Gives a Striking Statement About Karim Benzema, Who Is Still Injured
With 13 games remaining this season, mathematically, Real Madrid, who are currently nine points behind Barcelona, ​​still have a very good chance of taking over at the top of the standings.
This can be started from the El Clasico duel in week 26, by defeating Barcelona at Camp Nou.
In the first meeting this season, Real Madrid beat Barcelona with a landslide score of 3-1. In the match that was held at the Santiago Bernabeu on October 16 last year, three goals for Los Blancos were scored by Karim Benzema, Federico Valverde and Rodrygo Goes. While one goal in return for El Barca was scored by Ferran Torres.
However, after that defeat, Barcelona managed to reply with successive wins, namely the Spanish Super Cup final at the King Fahd International Stadium, Saudi Arabia and the Copa del Rey at the Santiago Bernabeu.
However, Real Madrid are looking into this match with full confidence. Karim Benzema and friends have just eliminated Liverpool in the last 16 of the Champions League.
Also Read: Drawing Results and Schedule for the Final Eight of the Champions League, Champion Favorite Teams Meet Too Early
Success in winning a ticket to the quarter-finals of Europe's highest caste competition will be a source of motivation for the Real Madrid players, who this season are carrying out the mission of defending the La Liga title.