Australia Denies Helping US to Defend Taiwan in Exchange for Submarine Purchases
Australian Defense Minister Richard Marles confirmed Australia was "absolutely" not pledging to support the United States (US) in a military conflict over Taiwan in exchange for a deal to buy nuclear-powered attack submarines from the US.
On Monday (13/3), Australia, the US and the UK announced the AUKUS (Australia – United Kingdom – US) project which will run for decades. The Australian government plans to buy Virginia-class military submarines from the US. Later, Britain and Australia will produce and operate a new class of submarines, SSN-AUKUS.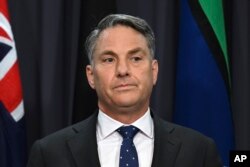 Australian Defense Minister Richard Marles attends an event at the Parliament Building in Canberra, Australia, November 9, 2022. (Photo: Mick Tsikas/AAP Image via AP)
Australia's government, which is controlled by the Labor Party, says a deal worth A$368 billion or Rp 3,821 trillion is urgently needed given China's growing military presence in the region. China's increase in military strength has been billed as the largest such effort since the Second World War.
Asked if Australia had promised to commit to helping the US in a conflict over Taiwan in return for the submarine purchase, Marles told ABC television: "Of course not, nor has there been a request. [dari AS.red].
He said there were "absolutely no" quid pro obligations for Australia from the deal.
China views democratically ruled Taiwan as its territory and has never ruled out the option of using force to take back the islands. US President Joe Biden said the US would defend Taiwan in the event of an "unexpected attack" by China.
Under the AUKUS deal, the US will sell three submarines manufactured by General Dynamics in early 2030. Australia has an option to buy two additional submarines. Australia's Asian allies welcomed the AUKUS deal, while China called the deal a nuclear proliferation or deployment. [ft/ah]