Announcing the Birth of a Child, Marshel Widianto is Married to Cesen, ex JKT48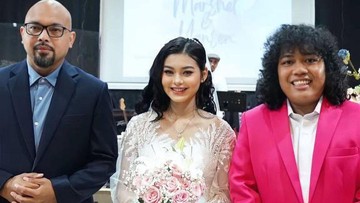 Newsdelivers.com –
Shocking news came from stand up comedian, Marshel Widianto. On Saturday, March 18 2023, through his Instagram account, Marshall announced the birth of his first child.
This 26-year-old man suddenly uploaded a photo of a newborn who was his son. In the description of the uploaded photo, Marshall expressed his happiness at being blessed with a child and his hopes for the future as a father.
"Huaaaaa!! Friends! Thank you for every good prayer from friends for me," Marshel wrote, quoted from Instagram @marshel_widianto.
"Here's good news: A child has been born healthy and doesn't lack anything either. So happy. And I hope that even more happiness can be felt and experienced by my beloved baby in his life. This is an honor. With all my heart and soul I will take care of it, I will take care of it, and I will love it," he continued.
Marshall's first child's name
Marshall also announced the name of his child to the public, Mother. Marsel and his wife gave a beautiful name, Archie Hermawan Farid Gilandy Widianto.
Along with the announcement of this name, Marshall again expressed his affection for the Little One. This comedian looks happy to welcome baby Archie.
"Dear Archie Hermawan Farid Gilandy Widianto, welcome to the world, son.. Papa and Mama love you..," wrote Marshel.
Marshel is secretly married to Cesen, ex JKT48
Unbeknownst to the public, it turned out that Marshel was secretly married to former JKT48, Yansen Indiani or Cesen. This was revealed from the gratitude he wrote to Cesen, who was called his wife.
"Thank you also to my wife @ceseniy Widianto for taking care of my children and always being patient for all support without being seen, thank you," said Marshel.
In this upload, Marchel also shares photos of Cesen's birth process and portraits of her simple wedding, away from the media spotlight.
In the photo, Cesen appears wearing a white dress. Meanwhile, Marshall wore a white shirt wrapped in a bright pink suit.
The upload of photos of Marshel's birth and marriage caused quite a stir in the public. The two were never reported to be in a relationship or heard of planning a wedding, Mother.
However, it seems that this news is no longer an open secret, you know. Many fellow artists already know the status of the two, aka married.
What are the comments from fellow artists who are also Marshel's best friends regarding the news of the birth of this comedian's child?
Read the next page, Mother.
Check out the signs that giving birth is imminent, in the following video:
[Gambas:Video Haibunda]