Will Vladimir Putin Really Be Arrested?
The International Criminal Court (ICC) took a major step by issuing a warrant for the arrest of Russian President Vladimir Putin for the invasion of Ukraine since February 2022. Putin is also accused of committing war crimes by deporting Ukrainian children to Russia.
The question is, is it true that the ICC's decision can actually drag Putin to court in The Hague?
How did it happen?
ICC member states are required to carry out arrest warrants for Putin and Russia's presidential commissioner for children's rights, Maria Lvova-Belova, if they travel to the tribunal's member countries.
"That's true," ICC Prosecutor Karim Khan told AFP when asked whether Putin could legally be arrested if he set foot in one of the 123 countries.
Russian President Vladimir Putin in Rome, Italy, July 4, 2019. (Photo: REUTERS/Yara Nardi)
This policy can indeed make it difficult for Putin to travel abroad. However, this order is difficult to carry out because the ICC does not have its own police force to carry out its orders. As a result, the decision to arrest is completely dependent on the ICC countries.
Countries don't implement the decree, especially if it involves a sitting head of state like Putin.
Former Sudanese leader Omar al-Bashir made successful visits to a number of ICC member countries, including South Africa and Jordan, although these countries were subject to ICC warrants.
Despite being ousted in 2019, Sudan has yet to hand Omar over to justice.
Matthew Waxman, professor at Columbia Law School, said it was a "very significant ICC move, but it is unlikely we will see Putin arrested."
What are the main obstacles?
First and foremost: Russia, like the United States (US) and China, is not a member of the ICC either.
The ICC can bring charges against Putin because Ukraine has accepted its jurisdiction over the current situation, even though Kyiv is also not a member state of the ICC.
But Moscow rejected the warrant for Putin's arrest.
Russia does not extradite its citizens under any circumstances.
Kremlin spokesman Dmitry Peskov attends a press conference of Russian President Vladimir Putin after a meeting of the State Council on Youth Policy in Moscow, Russia, December 22, 2022. (Photo: via Reuters)
Kremlin spokesman Dmitry Peskov said Russia "does not recognize the jurisdiction of this court so from a legal point of view, the decision of this court is not valid."
Russia actually signed the Rome Statute that formed the basis of the ICC, but did not ratify it as a member. In 2016. Moscow decided to withdraw its consent on Putin's orders, after the ICC launched an investigation into the war in Georgia in 2008.
Putin is unlikely to end up on trial for war crimes "unless there is a regime change in Russia," said Cecily Rose, assistant professor of public international law at Leiden University.
Can Suspected High Level Officials Be Tried?
However, said Khan, history records that there were several senior figures who ended up in court on charges of war crimes against all odds.
"There are so many examples of people who thought they were beyond the reach of the law… they found themselves in court," he said.
"For example Milosevic or Charles Taylor or Karadzic or Mladic," said Khan.
In 2012, the ICC convicted Taylor, a former Liberian warlord who became president, of war crimes and crimes against humanity.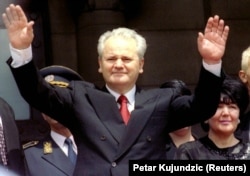 Slobodan Milosevic (L) waves to supporters after being sworn in as President of Yugoslavia outside the Yugoslav parliament in Belgrade. (Photo: Reuters)
Former Serbian president Slobodan Milosevic died in his cell in The Hague in 2006 while on trial for genocide in a Yugoslav war crimes tribunal.
The former leader of the Bosnian Serbs, Radovan Karadzic, was eventually arrested in 2008 and convicted of genocide by a court. The Bosnian military leader, Ratko Mladic, was arrested in 2011 and sentenced to life in prison.
Are There Other Options?
The ICC cannot try suspects in absentia, but Khan said courts have "other ways" to push cases forward.
He cited a recent case where he asked a judge to hold a trial to establish charges against Joseph Kony – the leader of the Lord's Resistance Army, who launched a bloody rebellion in Uganda. This was done even though Kony was still at large.
"That process may be applicable to other cases, including the current case" involving Putin, Khan added. [ah/ft]