The Story of Mona Ratuliu & Her Husband Facing a Child Who Has Suicide Attempts, Great Trembling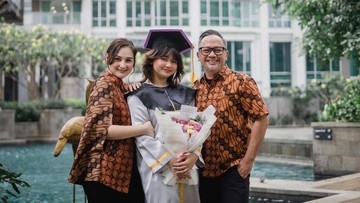 Newsdelivers.com –
The name of Mona Ratuliu's eldest daughter, Davina Syafa Felisa, has been in the spotlight after revealing her mental health condition at the end of 2022. Apparently, the symptoms of depression experienced by this 19-year-old teenager have been seen since he was little.
When talking with Ashanty, Mona told me when the princess ran injured to her room. Mona said that at that time the girl who is familiarly called Mima woke up after injuring herself.
"I don't know if he self-harmed or attempted suicide, just when he was injured, he was shocked and scared," he said, launching the NGOBROL ASIX YouTube channel, Saturday (18/3/2023).
"Finally he went to our room and told us. He just said 'I'm sorry Mother, I'm sorry'. So we immediately rushed to the hospital at that time," he continued.
Mona said that at that time Mima was taking drugs. He also decided to drink all his medicines in the hope that he would recover soon.
"At that time he actually had medicines, he took all the medicines in the hope that if I drank all of them, he would recover. He was starting to feel anxious. So even after he was taken to the hospital he started to become conscious and unconscious. So that's it, " said Mona.
After the incident, Mima received intensive care from doctors for a week. She is also always monitored by a psychiatrist to find out what treatment is right for Mima.
Indra Brasco panics when Mima gets injured
Seeing the child covered in blood, Mona Ratuliu panicked and was shocked. However, it turned out that her husband, Indra Brasco, was far more panicked than she was.
Indra was silent with a blank stare and could not think. Because of that, Mona tried to control the situation and took the child to the hospital.
"The father was more panicked. At first I panicked so much that his body was shaking. This body shaking was really panicking. But as soon as I saw that Indra was far more panicked than me, I immediately took over. In other words, I parked my heart first. I'll turn it off first, I'll close first ," said the 41-year-old woman.
"Anyway, it's only the brain that turns on, okay where should I go, where should I take it, take it to the ER, where do I take this child, the important thing is to be safe first. The problem is the father's eyes are empty. It seems he can't think. He just has panic. That's it. There's nothing else. That's why it seems like oh, someone has to control the situation," he continued.
Previously, Mima said that the symptoms of depression she experienced had come and gone. What's the full story like? Check it out on the next page, OK?
For mothers who want to share about parenting and can get lots of giveaways, let's join the HaiBunda Squad community. Register click HERE. Free!
Also watch the following video of signs of a lonely child:
[Gambas:Video Haibunda]