The Foreman of the MBZ Solo Mosque owes IDR 145 million to Warung Traders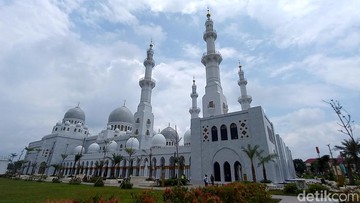 Newsdelivers.com, Insertlive –
Three foremen of the Sheikh Zayed Solo Great Mosque project are in arrears on a food debt of IDR 145 million to a stall trader named Dian.
The foremen with the initials N, G and G began to owe Rp. 65 million, Rp. 55 million and Rp. 35 million, respectively.
All three are in debt starting in 2021 and there is no good faith repayment.
Entering 2023, none of these debts were paid until Dian started complaining everywhere because PT Waskita Karya (Persero) Tbk was reluctant to pay off the meal debts of the three foremen.
According to the Project Manager of the Sheikh Zayed Grand Mosque (SZGMS) Solo, Adriansyah, his party has paid off the contractor so that the debt that Dian is questioning is not his responsibility.
"The company can convey that the payment of the foreman's debt to the stall is not Waskita's responsibility. This is because the foreman of the Sheikh Zayed Mosque have been paid 100 percent by the company according to their rights to their job responsibilities," said Adriansyah quoted via CNNIndonesia.com, Friday (17/3) ).
This problem made Gibran Rakabuming Raka, the mayor of Solo, also raise his voice.
Gibran admitted that he would immediately go to the three foremen who were in debt for questioning.
He will also ask the three of them to immediately pay off the debt.
"Immediately this week, yes, mesakke (pity) that much money. It's not parani wong e (I go to the person), Wis has (already has) a contact person, Waskita has helped with this," said Gibran.
"It's a pity to be loaned like that (it's a pity to be loaned like that). The restaurant in Boni has collapsed for Rp. 1 million (a restaurant that was loaned Rp. 1 million can be closed), this is Rp. 100 million," he concluded.
(dis/dis)
Also watch the following video: