Take a Peek at the Unique Tradition of the Ketupat War to Feeding the Spirits in West Bangka Ahead of Ramadan
Every region in Indonesia has its own unique cultural traditions to welcome the holy month of Ramadan. Likewise with the people of Tempilang Village, Tempilang District, Bangka Belitung Regency who held a traditional Ketupat War party at Pasir Kuning Beach. The Ketupat war is usually held in the third week of the month of Shaban.
The Ketupat War event is a tradition that has existed for hundreds of years. This tradition aims to ask God Almighty for safety and protection to avoid bad things. In addition, the Ketupat War contains the meaning of unity, awareness, kinship, and mutual cooperation in social life.
Now, the diamond war has become part of the tourist attractions on Bangka Island, and has even been named as one of the Intangible Cultural Heritage since 2014. Many residents from various parts of Bangka come to Tempilang to witness the traditional Ketupat War festival, as well as greet each other in welcoming the holy month. Ramadan. During the event, everyone is allowed to taste the food and drinks available.
So, how is the festive Ketupat War tradition in Tempilang Village, West Bangka in welcoming the month of Ramadan? Here's the review.
Stages of the Ketupat War Ritual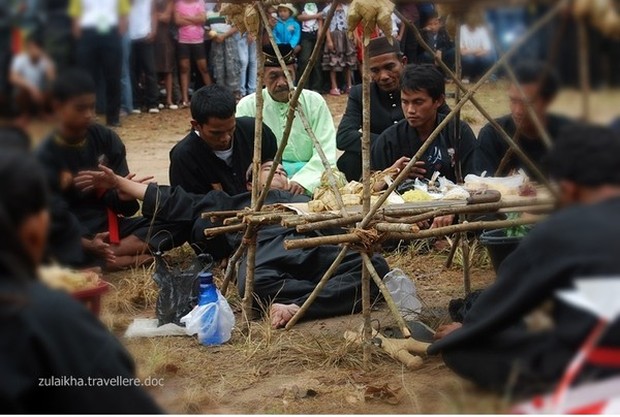 The procession recites a spell on the ketupat/Photo: detikTravel/Zulaikha d'Traveler
The Ketupat War tradition actually consists of a series of traditional ceremonies that must be carried out by the people of Tempilang Village. Quoting detikTravel, this ceremony in ancient times was intended to give offerings to spirits who were believed to be able to protect villages from evil spirits. In return, villagers have to give them offerings to keep them on good terms.
Referring to the Ministry of Education and Culture's website, there are several ritual stages that must be carried out by the Tempilang community in the Ketupat War tradition.
The Ketupat War series of events begins with the Penimbongan ritual, which is the ritual of giving food or offerings to spirits believed to live on land.
Furthermore, the Ngancak ritual is held, namely giving offerings to spirits believed to live in the sea so that they do not interfere with fishermen's activities when going to sea.