RD, Lilis Karlina's children distribute drugs, often skip school & sleep at school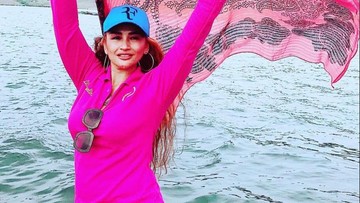 Newsdelivers.com, Insertlive –
The daughter of dangdut singer Lilis Karlina, RD (15), has been in the public spotlight after being arrested by the police for being caught in a drug case. The police believe that RS was wrong in choosing associations.
According to Ajat's testimony, the head of the RW in the area where RD lives, RD does reflect unhealthy associations. Ajat saw RD smoking several times, even though Lilis Karlina's child was still underage.
"I didn't think about getting this big, it's just that if juvenile delinquents often hang out trying to smoke I often see it. I just didn't expect it to be this big at all," Ajat told InsertLive.
Ajat confirmed that RD was arrested when he received a package containing illegal drugs. At that time, Ajat also helped search RD's house.
"It was true that at that time the hospital was receiving packages suspected of containing illegal drugs," explained Ajat.
"I was called back at around 18.00 WIB to re-search the area in the house and found in the room there was a package that had been packed by RD," continued Ajat.
Apart from drug problems, RD also received special attention at school because he often caused problems and skipped classes.
"Based on reports from the school principal, this child does receive special attention. Sometimes he is not at school, then he sleeps at school," said the Head of the Purwakarta Education Office, Purwanto.
The school is said to have provided guidance for the 15-year-old RD. RD's parents had also been called, but they did not come.
"The parents have been summoned, but the representatives who came were not the parents," he explained.
RD was arrested by the police in a drug trafficking case. RD was arrested with I, who was 26 years old, as a dealer. From this arrest, the police confiscated evidence in the form of 925 items of the drug type Hexymer, 740 items of Tramadol and 200 items of Trihexyphenidyl.
(yeah/yeah)
Also watch the following video: