Proliga 2023 Grand Final Match Schedule, Who's the Champion?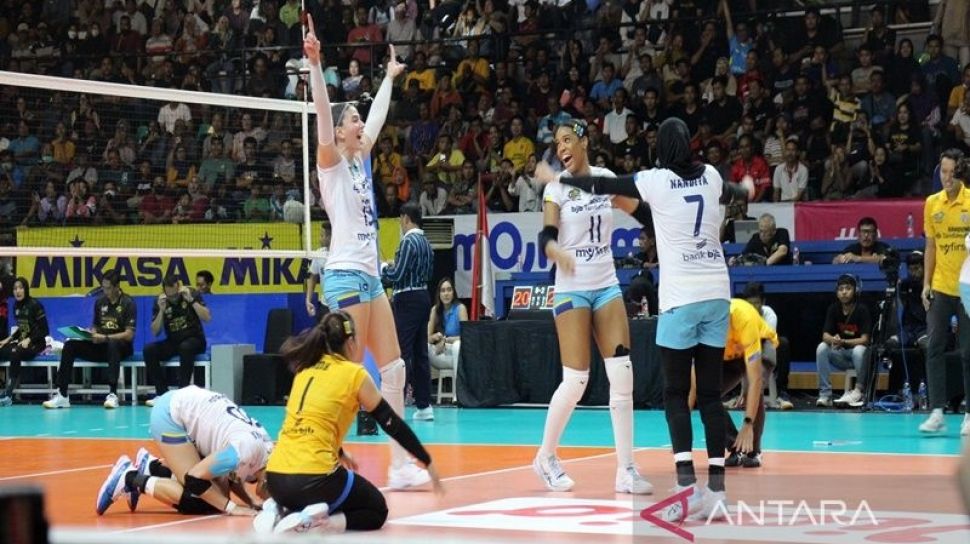 Suara.com – The most prestigious professional volleyball competition in the country, Proliga 2023, is entering its peak. Two teams from each male and female sector will compete in the grand final at the Among Rogo Sports Hall, Yogyakarta, Saturday-Sunday (18-19/3/2023).
From the men's sector, the teams that will compete for the title are Jakarta LavAni Allo Bank and Jakarta Bhayangkara Presisi. While in the women's sector, Bandung bjb Tandamata competes against Jakarta Pertamina Fastron to be the best.
The Proliga 2023 grand final is predicted to be fierce. Based on the schedule, Bandung bjb Tandamata and Jakarta Pertamina Fastron will compete first on Saturday (18/3/2023) at 17:00 WIB.
But before that, there will be a match for third place between Jakarta BIN and Gresik Petrokimia Pupuk Indonesia at 14:00 WIB.
Also Read: Proliga 2023 results in Solo: Bhayangkara Precision bends Surabaya Samator 3-1
One day later, it was the men's sector's turn to compete that began with the battle for third place between Jakarta STIN BIN and Surabaya BIN Samator at 14:00 WIB.
After that, there will be a hot and drawn match at 17:00 WIB between Jakarta LavAni Allo Bank versus Jakarta Bhayangkara Presisi.
The Proliga 2023 grand final match at GOR Amongrogo Yogyakarta is scheduled to be broadcast live on Moji TV and streamed on Vidio.
Proliga Women's Grand Final Schedule for 2023
March 18, 2023
Also Read: 2023 Proliga Results: Gresik Petrokimia Successfully Beats Jakarta BIN 3-1
14:00 WIB, Battle for third place: Jakarta BIN vs Gresik Petrokimia Pupuk Indonesia.