Lyrics Translation and Meaning of BLACKPINK's 'Tally' Song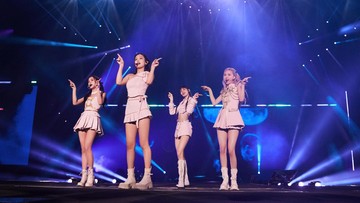 Newsdelivers.com, Insertlive –
BLACKPINK's concert titled BORN PINK was successfully held at Gelora Bung Karno (GBK) some time ago. In the concert, one of the songs that caught the attention was Tally.
Tally is one of the songs on the album Born Pink which was released in September 2022. With a duration of 3 minutes and 4 seconds, Tally is thick with hip hop nuances and a touch of rock.
So, what does Tally's song mean?
Broadly speaking, Tally voiced freedom of expression, especially for women. According to the Genius website, through the song, BLACKPINK encourages listeners to do whatever they want in their life.
TAKE THE QUIZ
The song shows that women will not be constrained by the stereotypes that are created in their environment. Instead, they prove that women are strong and have opinions of their own. They have many dreams and are not afraid to show them to the world.
The full English lyrics make Tally easier to understand for music lovers around the world. On YouTube, this song has been played more than 20 million times and received more than 500 thousand likes.
Tally's lyrics
[Chorus: Rosé]
I say "fuck it" when I feel it
'Cause no one's keepin' tally
I do what I want with who I like
I ain't gon' conceal it
While you talkin' all that shit
I'll be gettin' mine, gettin' mine
[Verse 1: Lisa]
Don't apologize for my behavior
If you're offended, I don't care
Starin' at me 'stead of starin' in the mirror
Little weird how
[Pre-Chorus: Jisoo]
Everybody tells me to play nice
Everybody judge, but looking twice
But my body don't belong to, nah-uh-uh, none of them
though
And I'm not gonna change 'cause you say so
[Chorus: Jennie, Rosé]
I say "fuck it" when I feel it
'Cause no one's keepin' tally
I do what I want with who I like
I ain't gon' conceal it
While you talkin' all that shit
I'll be gettin' mine, gettin' mine
Yeah, I say "fuck it" when I feel it
'Cause no one's keepin' tally
I do what I want with who I like
And I ain't gon' conceal it
I'll just do it like the boys say
I'm gettin' mine, gettin' mine
[Verse 2: Lisa]
Told me to play it cool
I break the rules, I'm breaking hearts in two
Warned me to make the rules
Or play the fool, it ain't that hard to choose
Take apart the dos and don'ts
And lose the won'ts, I'm gettin' mine
Mines is mine, yours is mine
This is mine, get in line
Tally translation
I say fuck it when I get annoyed
Because there is nothing to hold back the calculation
I do things I like with people I like
I won't cover it
When you say bad things
I'll get mine, get mine
Don't feel guilty for my attitude
If you're offended, I don't care
See myself standing in front of the mirror
A little weird
They said I should play it safe
All judge, but look twice
However, my body doesn't belong to, nah-ah-ah, any of them
I won't change even if you ask
I say fuck it when I get annoyed
Because there is nothing to hold back the calculation
I do things I like with people I like
I won't cover it
When you say bad things, I'll get mine, get mine
I say fuck it when I get annoyed
Because there is nothing to hold back the calculation
I do things I like with people I like
I won't cover it
I'll do it like the boys say, get mine, get mine
Told me to play it cool, I broke the rules, I broke my heart in two
Warn me to make the rules, or play the fool, it's not hard to choose
Separate "do" and "don't"
And remove the "don't want", I got mine
What's mine, yours then mine, this is mine, line up
Sometimes, I like to play dirty
Just like all bad boys do
It's my choice and I have nothing to hurt
When it's not feminine
They said I should play it safe
All judge, but look twice
However, my body doesn't belong to, nah-ah-ah, any of them
I won't change even if you ask
I say fuck it when I feel
Since nothing holds back the calculation, I do the things I like with the people I like
I won't cover it
When you say bad things, I'll get mine, get mine
I say fuck it when I feel
Since nothing holds back the calculation, I do the things I like with the people I like
I won't cover it
I'll do it like the boys say, get mine, get mine
I say fuck it when I feel
And I'm not going to cover it
(yeah/yeah)
Also watch the following video: