Inspiration to Look Elegant with a Hijab Skirt for the Office in the Rainy Season
This March it seems that we are still often facing the rainy season. For those of you who often go to the office or are already WFO, that means you have to be prepared to wear clothes that are right for this rainy season.
Sometimes the rainy season makes us lazy to wear clothes that are too tight or long. It's not surprising that many people are lazy to wear skirts because they look complicated to wear during the rainy season.
Even so, you can still wear skirts as an outfit for the office during the rainy season. For those of you who are still confused, you can copy some inspiration for the style of celebrity hijabers when wearing a skirt for an office outfit during the following rainy season.
Hamidah Rachmayanti's Style Inspiration with a Skirt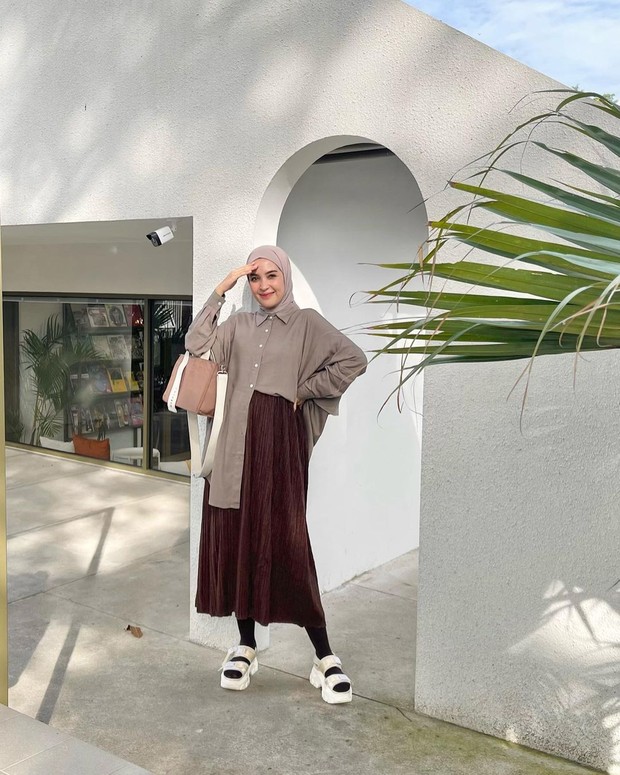 Hamidah Rachmayanti's Style Inspiration with Skirts/ Instagram.com/hamidahrachmayanti
As traced from the Instagram account @hamidahrachmayanti, it appears that this mother of two has a fashionable style with a simple hijab outfit. Hamidah Rachmayanti was seen wearing a knee-length shirt in shades of gray combined with a pleated velvet skirt in shades of brown.
She was seen combining her outfit with a nude pashmina hijab and a pair of white sandals and black socks.
Inspiration for Nisa Cookie's Style with a Skirt

Nisa Cookie Style Inspiration with Skirt/ Instagram.com/nisacookie
Celebrity hijabers Nisa Cookie also used a skirt outfit that you can imitate for your appearance when you go to the office. In this appearance, Nisa Cookie wore a pink outer that matched the skirt she was wearing.
The outfit is combined with a striped interior and a white pashmina hijab. Not only that, he also wore white sneakers so that his style looked simple and suitable for an office outfit.