Gold Price Breaks a Record: Ready to Sell for Additional THR, Bun?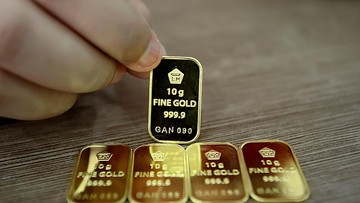 Newsdelivers.com –
Do you have gold savings? This is good news because today's gold price Saturday (18/3/2023) set a new record in history. Judging from the LM Graga Dipta Pulo Gadung gold boutique, the price of 1 gram of Antam gold reaches IDR 1,088,000 per bar.
This means, the right time if you want to sell gold. Today's gold price rose to IDR 25,000 compared to the previous day, Mother.
Antam's gold price makes a new history
This price is also a new history as the highest gold value in the history of Antam's gold boutique records. Previously, the highest price of gold only penetrated IDR 1,065,000 per gram on August 7 2020.
Judging from the records of the last few weeks, the price of gold has started to soar since last Thursday. During the last 9 trading days, Antam's gold price rose to IDR 68,000.
Gold buyback price
Then, what is the buyback or buyback price for Antam's gold? Wow, that turns out to be high too, Mother, because it jumped Rp. 25,000 with a value of Rp. 977,000 per gram.
Antam's gold price turned out to be in line with the global gold price which has also jumped up, Mother. At the close of trading on Friday (17/3/2021), the gold price closed at US$ 1,987.93 per troy ounce.
The price of gold rose by around 3.59 percent and became the highest record since March 10 2022 or for the past year. What are the factors that cause gold prices to continue to soar?
Cause gold goes up
One of the reasons for the increase in gold prices is suspected to be due to the occurrence of COVID-19 since 2020. It was exacerbated by the banking crisis that occurred in America and Europe. It is feared that the crisis that hit Silicon Valley Bank and several other banks will have a wider impact and make gold prices continue to soar.
So, if you want to sell precious metals, this could be the right time. You can get many times the profit from the purchase price. If you don't have any plans to save gold anymore, you can start releasing or selling it.
Not bad, Mother, to add to the Hari Raya Allowance (THR) budget which we will need in a month. Mother wants to see more detailed information about the price of gold by gram and the price in rupiah.
CONTINUE READING CLICK HERE.
For mothers who want to share about parenting and can get lots of giveaways, let's join the HaiBunda Squad community. Register click HERE. Free!
So, those who want to invest in precious metals can see the information from the video below:
[Gambas:Video Haibunda]
(rap/rap)