Furious Import Business Banned Thrifting, Adian PDIP: Why Are Ministers Competing to Accuse Used Clothing of Killing MSMEs?
Suara.com – PDI Perjuangan politician, Adian Napitupulu, admits that he is surprised that the imported used clothing business or what is often known as thrifting is considered to be killing MSMEs in Indonesia. Adian also questioned what data was used so that the thrifting business was considered detrimental.
"If it is said that thrifting clothes kill MSMEs, then I want to ask permission, what data did the ministers use?" Adian told reporters, Saturday (18/3/2023).
He said, data from the Indonesian Textile Association, apparel imports from China control 80 percent of the market in Indonesia. According to him, take for example in 2019 the import of apparel from China was 64,660 tons, while according to BPS data imported used clothing in the same year was only 417 tons or less than 0.6 percent of imported apparel from China.
Then according to him, in 2020 apparel imports from China amounted to 51,790 tons while imported used clothing only 66 tons or 0.13 percent of clothing imports from China. In 2021, apparel imports from China were 57,110 tons while imports of used clothing were only 8 tons or 0.01 percent of imported apparel from China.
Also Read: Confessing Fans of Used Goods, PDIP Politicians Check the Import Thrifting Prohibition Policy
He said, if apparel imports from China reach 80 percent and apparel imports from Bangladesh, India, Vietnam and several other countries are around 15 percent, then the remaining market space for domestic products is only left with a maximum of 5 percent, and even then big companies like Sritex have been contested. , thousands of MSMEs and Imported Used Clothing.
Furthermore, he said that if it is said that imported used clothes do not pay taxes, then that can also be debated because the data he submitted above is BPS data which of course must also be recorded at Customs and Excise.
"From all the figures above, who are our MSMEs actually killed? Maybe the sequence is like this. 80 percent of MSMEs are killed by imported apparel from China, while imported Chinese apparel is currently not being killed, but is being undermined by imported used clothing," he said .
"So who exactly are the Minister of Trade and Menkop UMKM defending? The apparel industry in China or Indonesian MSMEs. Let's be honest together," he continued.
Finally, he also questioned why the ministers were competing to chase, burn and accuse the used clothes of being the sole suspect in the MSME killings.
Also Read: Novel Baswedan Calls Importing Used Clothing Illegal
"Why don't the ministers try to evaluate the regulations and staff to provide more living space, train production methods, marketing methods and even if necessary help the MSMEs penetrate foreign markets. Once again, finding scapegoats is indeed much easier than improving yourself. ," he concluded.
Ban Thrifting
Previously, President Joko Widodo or Jokowi commented on the proposal of the Ministry of Cooperatives, Small and Medium Enterprises (Kemenkop UKM) to ban the business of imported used clothing or what is often known as thrifting. According to him, the import of used clothes disrupts the running of the textile industry in Indonesia.
"It's disturbing the domestic textile industry. It's very disturbing. The import of used clothes is disturbing. It's very disturbing to our domestic industry," Jokowi said at Istora GBK, Jakarta, Wednesday (15/3/2023).
He then admitted that he had ordered his staff to take action against importers of used clothes.
"I have ordered them to look for it properly and a day or two have found many," he said.
Separately, Bareskrim Polri is coordinating with the Ministry of Trade (Kemendag) to take action against thrifting business practices, in accordance with applicable laws and regulations.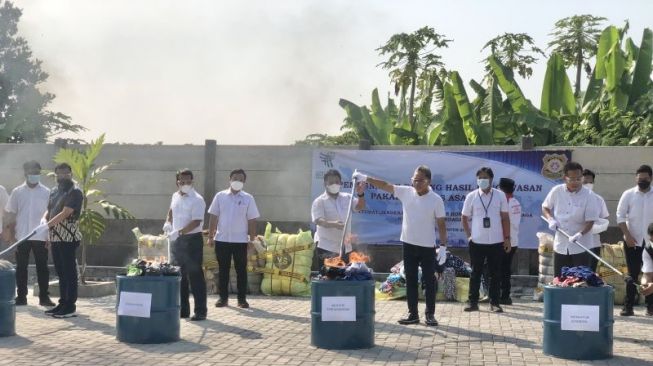 An estimated IDR 9 billion of used clothing from abroad was destroyed (Antara)
"Today, Tuesday 14 March 2023, Bareskrim Polri is coordinating with the Ministry of Commerce, of course related to the enforcement of business practices of imported used clothing or thrifting," said Head of the Public Information Bureau (Karopenmas) of the Public Relations Division of the Indonesian National Police, Brigadier General Pol. Ahmad Ramadhan at National Police Headquarters, Jakarta, Tuesday (14/3/2023).
On the other hand, the Ministry of Tourism and Creative Economy (Kemenparekraf) admits that used clothes or thrifting clothes from abroad are a threat to local fashion brands.
This is because thrifting products tend to be cheaper, so they are a new choice for Indonesian people.
"Actually, yes, but yes, we did not deny that there is indeed a risk in each of these," said the Director of Marketing for the Ministry of Tourism and Creative Economy, Yuana Rochma Astuti when met by Suara.com.